Early Bird
BOT approves 3% salary increase for faculty and staff
Additional highlights from last week's gatherings include resolution to support Prop CC and new hospitality-leadership program.
September 9, 2019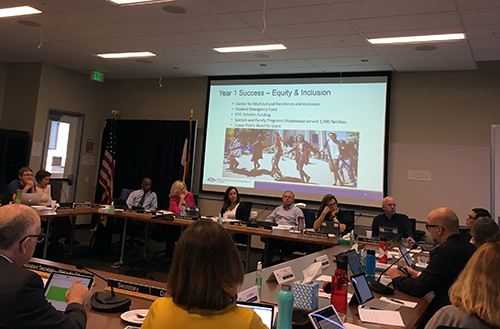 Metropolitan State University of Denver's Board of Trustees met Thursday and Friday. Here are the highlights from two half-days of committee meetings, presentations, robust discussion and big decisions.
3% salary increase for faculty and staff
The board approved Phase II budget recommendations from the Budget Task Force. That included a 3% across-the-board salary increase for faculty, professional staff and executive staff, as well as maintaining a commitment to College and University Professional Association salary averages.
Faculty members will stay between 94% and 100% of the CUPA average compared with peers at comparable institutions. Professional staff and executive staff will not fall below 92%.
"We cannot have a first-class university without first-class faculty and staff, and that means providing compensation to support them," said Trustee Elaine Gantz Berman.
Employees will see the salary increase reflected in October paychecks. All told, this investment in the faculty and staff equates to $4.2 million.
The board budgeted an additional $300,000 for financial aid to support students who have been affected by the closure of the tuition window. Branch allocations of $2 million were also prioritized by their impact on student services and success.
Board supports Prop CC
The board unanimously passed a resolution to support Proposition CC, a Colorado ballot measure that would allow the state to retain excess revenue it is currently required to refund under the Taxpayer's Bill of Rights.
The proposition would redirect that existing tax funding toward higher education, K-12 schools and transportation. If the measure passes, it is estimated that $300 million would be distributed equally among each of these areas in fiscal 2019-20.
Hails and farewells
President Janine Davidson, Ph.D., welcomed Michael Benitez Jr., Ph.D., the new vice president for the Office of Diversity and Inclusion. Davidson called him a "champion of diversity" and emphasized the importance of his role in helping shape the future of the University. He started last week.
In his first official board meeting, Larry Sampler, vice president of Administration and Finance and chief operating officer, also lauded the recent addition of Stacy Dvergsdal as associate vice president for Human Resources. Sampler noted that the new AVP was a first-generation college student, which "underscored her affinity" with MSU Denver.
Davidson also announced the retirement of Provost Vicki Golich, Ph.D.
"Vicki is a very compassionate and present leader," Davidson said. "She's been an enormous advocate for faculty, staff and students, and I can't thank her enough."
Golich is slated to retire next June. Matt Makley, Ph.D., professor of history, will chair the search committee for the University's next provost.
A good day for hospitality
Christine Márquez-Hudson, vice president of University Advancement, and Steve Galpern, senior director of major gifts, announced a $1.54 million gift from donors Frank and Gina Day of Concept Restaurants. The gift is the largest in University history.
The donation will be divided equally between the School of Hospitality, Tourism and Events' endowment and a new academic-leadership academy. Trustee Barb Grogan made a motion to "express profound gratitude" and approve the name of the Day Leadership Academy. All board members agreed.
"This gift is one of the most formative things that could happen for our students," said Christian Hardigree, J.D., founding dean of the school. "I am so humbled and inspired by Frank and Gina's generosity."
The academy will include a new hospitality-leadership industry major; a structured mentoring program involving alumni and industry professionals; a formalized internship program; a retreat-based leadership program for industry professionals and students; and a pilot online noncredit hospitality-leadership certificate for industry members.
State higher-ed leader talks on priorities, ROI and funding
Angie Paccione, Ph.D., executive director of the Colorado Department of Higher Education, provided an update on her team's work in support of students. She gave a brief recap of the state's master plan and outlined its four goals: increasing credential completion, erasing the equity gap, improving student success and investing in affordability and innovation.
Paccione also noted two of her own priorities. She hopes to hire a chief educational-equity officer to continue to build momentum around diversity and inclusion in higher education. Her other focus is on high-quality collegiate apprenticeships that set students up for careers after graduation.
The CDHE executive updated the board on a recent ROI report produced by her office and shared how she will propose a new funding formula for higher education that places more emphasis on supporting students from diverse backgrounds.
"We want to align metrics in this funding formula to match our state goals," she said. She noted that that change would likely bolster support for universities such as MSU Denver.
Board of Trustees business meetings are open to the public. You can also listen to live audio of meetings on the trustees' website.
Topics: Board of Trustees, Colorado, Compensation, Policy, School of Hospitality, Events and Tourism, Tuition window
Edit this page