Early Bird
Provost announces retirement
Vicki Golich, Ph.D., to step down following 2019-20 academic year after a decade of extraordinary service to MSU Denver.
August 15, 2019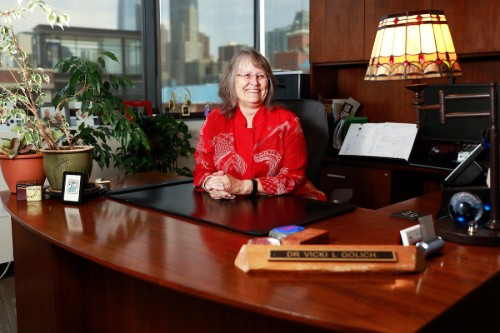 Vicki Golich, Ph.D., announced her retirement today after a decade of service as provost of Metropolitan State University of Denver. She'll step down after the 2019-20 academic year.
"Vicki is everything a provost should be and more," said President Janine Davidson, Ph.D. "She is an extraordinary leader, a brilliant academic and a trusted advisor. I can't thank her enough for her service to this University."
Golich has spent 45 years in academia and dedicated her professional life to creating environments that help students, faculty and staff achieve their best. She joined the MSU Denver leadership team in 2009 after 17 years at California State University San Marcos.
"It's just time," she said of her decision. "I think there is a fine balance between staying long enough to provide consistent leadership during a time of transition and knowing when it is time to bring in some new ideas and fresh blood."
During her tenure as MSU Denver's chief academic officer, Golich has made innumerable contributions to the Roadrunner community. Among those has been her steadfast commitment to the support, development and recognition of faculty.
A notable example is her work to increase the number of faculty sabbaticals. When she arrived on campus, only three faculty members were accessing this professional-development opportunity. Her advocacy in 2013 led to the University setting aside $500,000 to support a sabbatical for every faculty member over a seven-year period. In 2018, 23 faculty members applied for and earned sabbaticals.
Golich has also been a strong advocate for diversifying the University's faculty. She collaborated with the Faculty Senate Diversity Committee to develop the Wilton Flemon Postdoctoral Fellowship, which creates a pipeline from graduate work to the classroom at MSU Denver for faculty from historically underrepresented populations.
"Provost Golich has been a tireless advocate for faculty. We will miss her friendship," said Matt Makley, Ph.D., professor of history and former Faculty Senate President. "Her legacy, like an echo of her distinct laugh, will reverberate through the halls and corridors of MSU Denver for years to come."
Behind the scenes, Golich helped professionalize a wide-variety of processes that benefit faculty. She spent more than two years working with a team of faculty and administrators to revise the tenure and promotion system, which she considers among her most hard-won accomplishments. She also stabilized salary and work expectations for department chairs.
"It has been nice working with a provost who is concerned about the welfare of faculty," said Katia Campbell, Ph.D., president of the Faculty Senate and associate professor of rhetoric and cultural studies. "Vicki has been responsive to our needs as faculty and I can always depend on her listening ear when issues arise. I appreciate her sense of humor and her dedication to the MSU Denver community."
On the recognition front, Golich initiated a campuswide celebration of tenure and promotion success, and most recently, developed the popular Roadrunners Who Soar. The faculty and staff awards celebration debuted in 2019 and will continue into the foreseeable future.
"One thing that has always impressed me about Vicki is her knack for putting together great teams," said Cathy Lucas, vice president of strategy and chief of staff. "She has nurtured talented faculty and staff in the MSU Denver community, elevating them to leadership roles, but also knows when we need to bring in expertise from outside."
Golich is quick to note that her support for faculty and staff ultimately leads to better support for students. She has also played a critical role in directly shaping the student experience at MSU Denver.
She has overseen the creation of the University's seven current master's degrees, with an additional seven graduate programs in the pipeline. She was also a key figure in formalizing the Undergraduate Research program and developed MSU Denver's first program to support students who were emancipated from the foster-care system – the Educational and Personal Independence Celebrated Scholars Program.
Her commitment to hands-on, immersive learning experiences is unparalleled. She had a hand in creating the University's Applied Learning Center, Service Learning Program and Civic Engagement Program, and has played a crucial role in developing international learning experiences for students.
In 2019, she won the William M. Plater Award for Leadership in Civic Engagement from the American Association of State Colleges and Universities. The honor recognized her dedication to engaging undergraduate students in the democratic process.
Despite her many achievements as provost and an extensive list of academic successes, Golich is most proud of working for an institution that changes students' opportunities in life. She said that MSU Denver adds more value to people's lives than any other university.
While she is looking forward to spending more time with her husband and traveling post-retirement, she knows she'll miss being in a "lively intellectual space" and spending time with colleagues, many of whom have become her closest friends.
"My wish for MSU Denver is that we truly become known as the model university that we are, for delivering high quality education for all," she said. "I want people to know this place for how great it really is."
Edit this page