Early Bird
Tuition window closing by 50%
The incremental closure will increase funding for student-support services and give University leaders time to review impacts.
May 29, 2019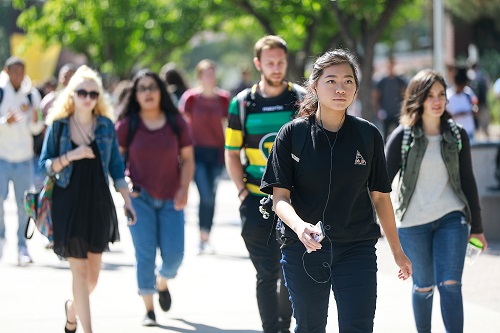 In its May meeting, the Metropolitan State University of Denver Board of Trustees approved multiple changes to tuition and fees for the coming academic year, including an incremental closure of the tuition window.
The window will close by 50% this fiscal year, and University leaders will spend the following fiscal year studying the impact of the closure. Funds generated during this period will support the areas students identified as their top priorities: wraparound student services, scholarships, campus safety and additional full-time faculty members.
The process
After nearly two years of research and analysis – including student surveys and focus groups, and much robust discussion among University leaders – the Budget Task Force determined that the tuition window was not helping the students it was intended to support. The students who benefit most from the window are those who already have a strong safety net in place and who work fewer hours than their peers. Time to graduation has increased since the window's implementation.
A number of students shared their perspectives, ideas, opinions and concerns throughout this process, including those students who sit on the Budget Task Force and those who participated in focus groups and surveys. This input was critical to helping make a measured and informed decision that respects students' right to transparency and a high-quality, accessible University experience. The window closure will be implemented with equal care, deliberation and inclusion.
Moving forward
Closing the tuition window by 50% this fiscal year will generate an estimated $4.25 million. These funds will immediately be reinvested in high-impact programs that have already demonstrated success in student retention and support, including peer mentoring and advising, among other areas that students identified as essential to their success.
While this move will help many students, others may also need time to prepare financially for the partial closure. Students or employees with questions are encouraged to contact the Office of Financial Aid for more information or consultation.
"MSU Denver has worked incredibly hard to provide all students with an excellent education while also remaining Colorado's most affordable higher-education institution," said President Janine Davidson, Ph.D. "We are not in the business of barriers, and we will do everything in our power to help students who face challenges as a result of this decision."
University leadership thanks everyone who contributed to this process, including a specific thank you to faculty and staff for your help in communicating this change to students as needed.
Topics: Tuition
Edit this page