Early Bird
Staff Senate recap
Members discuss Faculty Workload Proposal, mental health and wellness, Alternative Work Arrangements policy progress and more.
February 10, 2022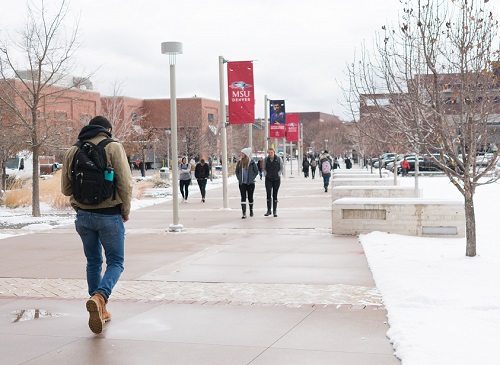 The Metropolitan State University of Denver Staff Senate met Tuesday, opening with Senate President Rebecca Reid asking senators and officers to share something they are grateful for or celebrating. Responses included being thankful for student employees, the support of team members and supervisors, the implementation of Workday and a robust response to a student-engagement survey.
Faculty Workload Proposal
Faculty Workload Task Force co-chairs Bill Henry, Ph.D., vice provost for Faculty Affairs, and Gabrielle Katz, Ph.D., professor of Earth and Atmospheric Sciences, joined the Staff Senate to discuss the Faculty Workload Proposal and solicit feedback. The proposal and accompanying white paper include recommendations for making full-time-faculty workloads more sustainable and flexible.
The proposal advocates reducing the standard teaching load for Category I and Category II faculty members and creating a differentiated workload model. Faculty workload has been a longstanding issue, Katz said. She said that implementing the proposal would accommodate the diversity of work being done by the faculty – including formal and informal teaching, service, mentoring, training and more – freeing up their time to make more meaningful connections with students.
During the brief discussion following the presentation, senators asked for clarification about what a reduction in hours would mean for students and faculty members, including affiliate faculty, and how it might impact the workload of staff members working with faculty members. Share your thoughts and questions by emailing Henry or Katz directly, filling out the Faculty Workload Task Force Survey or sending comments to the Staff Senate. Constituent feedback will be compiled into a report for Provost Alfred Tatum, who will make the final decision on whether to adopt the proposal.
Mental health and wellness
Michael Malmon, Ph.D., senior staff psychologist with the Counseling Center, joined the Staff Senate session to discuss mental health and wellness. Topics included symptoms of stress, sources of stress, steps we can take to relieve stress and a reminder of the importance of prioritizing self-care – even when we feel like we don't have time – because we are worth it!
Watch the approximately 20-minute presentation here and please refer to this Early Bird article from October 2020 for still-current information about accessing confidential counseling and wellness services.
Alternative Work Arrangements
The Alternative Work Arrangements panel met Feb. 3 for a moderated discussion on the policy. The conversation included the AWA policy's guiding principles, roles and responsibilities, and technology security for implementation and support. A Teams recording of the event is available on the Alternative Work Arrangements SharePoint page. Additional communications will be coming soon.
Senate business
Senators and committee members this month will participate in diversity, equity and inclusion training to explore ways to bring a DEI lens to the workplace and incorporate those values into our community.

Staff Senate nominations for officer and senator positions are open through March 21.

Nominate yourself or a colleague

you think would be a good representative for your division, including student employees. Voting will take place in April, with results announced in May and new senators assuming their roles July 1.
Community announcements:
Keep an eye on the Early Bird for details about the next Staff Senate meeting, March 8 from 10-11:30 a.m.
Topics: Events, Staff Senate
Edit this page