Early Bird
Davidson announced as finalist for 9News Leader of the Year
Voting is open through April 5, and all community members are welcome to participate.
February 8, 2022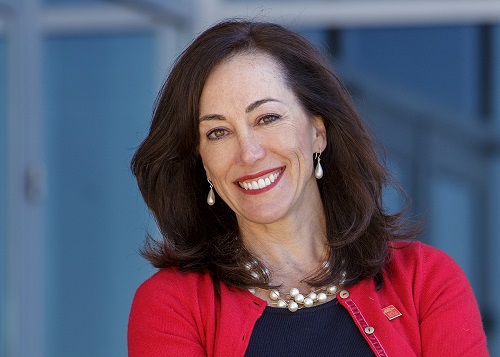 Metropolitan State University of Denver is proud to announce that President Janine Davidson, Ph.D., is one of three finalists for the 9News Leader of the Year award.
Following a prolific government and public-service career in Washington, D.C., Davidson has led MSU Denver in the development of high-quality, career-oriented programs that serve Colorado's population and power its economy. Such programs are grounded in her belief in the power of higher education and public higher education to strengthen the foundation of our democracy.
In addition to her role as president, Davidson has served as a member of the Denver Education Compact and Denver's Complete Count Committee and on the boards of the Downtown Denver Partnership, the Denver Metro Chamber Leadership Foundation, the Rose Community Foundation and Colorado Concern. She's been recognized as one of the Colorado Women's Chamber of Commerce 2019 Top 25 Most Powerful Women in Business and as a 2021 Denver Business Journal Most Admired CEO.
She also spent three years on the National Commission on Military, National and Public Service, which made recommendations to Congress on how to inspire more Americans toward public service. She is a National Association of Public Administrators fellow and a life member of the Council on Foreign Relations. Recently, she was appointed by the Secretary of Defense to serve on the Pentagon's Defense Policy Board.
How to vote
Online voting is open through April 5.
To vote for Davidson to be the 2022 9News Leader of the Year, click here.
Meet the Finalists Panel event March 16
Davidson will also participate in the Meet the Finalists Panel, hosted by the Denver Metro Chamber of Commerce, alongside fellow finalists Michael Niyompong, vice president and chief engagement officer of the Mental Health Center of Denver, and Lydia Prado, executive director of Lifespan Local. The moderated conversation gives finalists an opportunity to discuss their journeys, leadership styles and priorities.
RSVP to Attend Meet the Finalists

March 16

3:45-4 p.m. | Check-in

4-5 p.m.| Program

5-6 p.m. | Reception
See the winners announced live April 6
The winner will be announced at the Leading Colorado Luncheon on April 6. Proceeds from the event support the Leadership Foundation's Leading Colorado Scholarship Fund, ensuring that people in all sectors can participate in the organization's programs and enhance their impact in the community.
Register to attend the Leading Colorado Luncheon

Sheraton Denver Downtown Hotel
1550 Court Place

April 6
Registration: 11-11:30 a.m.
Program: 11:30 a.m.-1 p.m.
Networking: 1-1:30 p.m.
Topics: Award, Community, Events, Excellence, President Davidson
Edit this page