Early Bird
Inside the President's Cabinet
Members welcome new faces, learn about the Hart Center and Presidential Federal Internship program, and share important updates and announcements.
January 26, 2022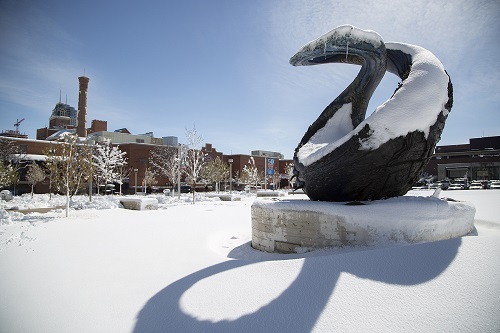 President Janine Davidson, Ph.D., began Thursday's meeting of the President's Cabinet by speaking to the compounded challenges and stressors many Roadrunners have experienced over the past several years, from the Covid-19 pandemic to recent devastating fires and acts of violence. Davidson encouraged faculty members, staff members and students to take advantage of the mental-health resources available to them and to continue to see the Metropolitan State University of Denver community as a source of strength and support. Read more in today's Early Bird.
Welcome to new Cabinet members
The meeting marked the first for Kelly Brough, chief strategy officer. Brough leads MSU Denver's newly established strategy team and will guide the implementation of the 2030 Strategic Plan. She'll assess programs and partnerships, oversee data-driven processes, work closely with the Government Affairs team and serve as the primary liaison to the Auraria Higher Education Center.
Watch for an Early Bird article welcoming Christopher Peña, director of Strategy, who will focus on developing metrics and a data dashboard in support of the 2030 Strategic Plan.
Additionally, Davidson thanked Eric Mason, interim vice president for University Communications and Marketing, for helping to create the new Strategy team. She also welcomed the 2022 Presidential Faculty Fellow, Sophia Tran, Ph.D., and applauded outgoing PFF Sam Jay, Ph.D., who was recently named director of Faculty Affairs.
JBC highlights
Davidson shared highlights from her briefing to the state's Joint Budget Committee, which provides budget-allocation recommendations to Gov. Jared Polis. Davidson spoke to MSU Denver's spending of increased state funding and one-time federal dollars, the University's decision to close the tuition window and its long-term plans for tuition. She also reiterated the need to correct decades of underfunding.
MSU Denver has signed on to a joint proposal with fellow institutions asking for $50 million in Step 1 funding and roughly $125 million to cover core minimum costs for all the state's higher-ed institutions. The proposal also requests the option to increase tuition if MSU Denver receives less than the funds needed to address minimum costs.
President's Team Award
This month, the President's Team Award went to the University Events Team of Cora Potter, manager, and Kylie Miller, specialist, with special recognition for David Sharman, Learning Spaces specialist.
"Cora and Kylie are a dynamic team that has put on so many events since we returned to campus last fall, constantly navigating a wide variety of health protocols in coordination with local and state officials," Davidson said. "We also can't talk about events without giving kudos to David Sharman, the man behind almost every online or hybrid event or meeting, including today's President's Cabinet. I can't say enough about these outstanding Roadrunners."
Covid-19 response update
All students, faculty members and staff members are required to be vaccinated and boosted by Feb. 15. If you have not already, please get your booster as soon as possible at the Health Center at Auraria or one of more than 1,000 other providers across the state.
The University continues to require masking indoors. N95 and KN95 masks are preferred and are available for pickup. Roadrunners must also complete the mandatory Daily Health Assessment before coming to campus and should not come to campus if they are experiencing any symptoms.
Screening testing of unvaccinated students is suspended immediately. The decision was made in consultation with the Denver Department of Public Health and Environment:
Because the Omicron variant is as likely to be transmitted among the vaccinated as the unvaccinated, according to the Centers for Disease Control and Prevention, screening testing of only the unvaccinated is rendered ineffective in mitigating the spread of the disease.
To maximize testing availability for symptomatic and exposed individuals with the greatest health risk.
Student vaccination status will be automatically verified through the Colorado Immunization Information System, or students will be contacted directly by MSU Denver. More compliance information for students is available at healthcenter1.com/immunization-requirement/; click "Covid-19 Compliance Process."
More information on employee vaccination verification and compliance will be coming soon.
Hart Center and Presidential Federal Internship program
Alyssa Marks, associate director of Industry Partnerships for the Classroom to Career Hub, and Crystal Herrera, program manager for the Hart Center for Public Service, presented on the Hart Center and Presidential Federal Internship program. The program is an initiative to send six students to Washington, D.C., where they will participate in 10-week summer internships.
The program provides housing, transportation, a $6,000 stipend, a thorough orientation and post-internship support. The diverse student cohort includes first-generation students and students of color who will pursue internships in political science, policymaking, climate change, immigration reform and more.
If any employees have connections to organizations that could make ideal placements, please contact Marks and Herrera.
To support this program and others, please visit the University Advancement website.
Other announcements
Check your email for Human Resources' Top Workplaces survey from Energage, which is open through Feb. 4.
See the Early Bird article on how to provide feedback on a new AHEC Public Safety program.
Learn more about MSU Denver's new reverse-articulation agreement.
Spring full-time enrollment is down 11.6% from spring 2021; head count is down 10.5% from spring 2021. Undergraduate enrollment is down 11.2% from spring 2021, and graduate-student enrollment is up 1.2%. The goal for the 2022-23 academic year is to maintain flat enrollment with a focus on retention.
Please report any recent positive Covid-19 test resultsto the Health Center at Auraria using the Covid-19 Reporting Form.
To request a service from the University Communications and Marketing team, visit www.msudenver.edu/ucm/ to complete the Service Request Form.
Look for a new statewide advertising campaign coming soon.
The Board of Trustees will meet Thursday and Friday. Watch the Early Bird for highlights.
The University Advancement team has raised $5.5 million for the current fiscal year, with an additional $5.5 million in the pipeline. The University's first-ever comprehensive campaign has already secured $5.85 million.
Please submit Day of Giving proposals by Feb. 28.
Watch for an upcoming student-housing survey.
Check RoadrunnersAthletics.com to see highlights from MSU Denver's outstanding student-athletes and big upcoming games.
Kudos to the networking and facilities teams for their work to completely replace the Arts Building wireless network, marking one of the first major milestones in the capital project to replace networking across the entire institution.
Topics: Events, Inclusive leadership, President Davidson, President's Cabinet
Edit this page