Early Bird
Day of Giving needs your campus projects
Submit your proposal for a chance to Join the Race during MSU Denver's 24-hour fundraising campaign.
January 12, 2022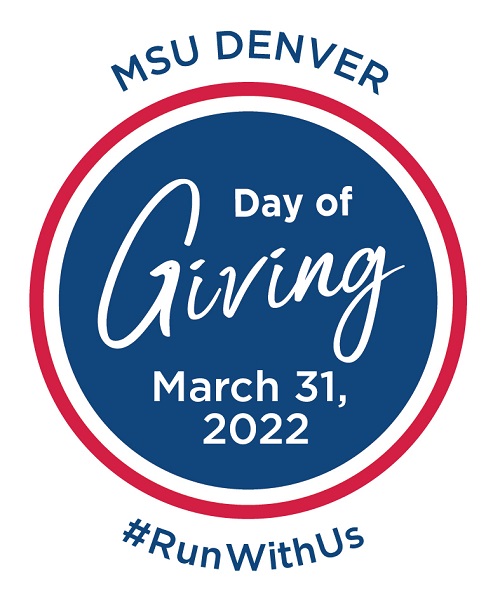 The sixth annual Metropolitan State University of Denver Day of Giving is March 31, and we need your campus-project submissions.
The Day of Giving is a way for alumni, faculty members, staff members, students and community members to provide current and future Roadrunners with the support they need to be successful. Last year, 866 donors came together to raise over $207,000 for the Student Emergency Fund, the Roadrunner Food Pantry, the Presidential Internship in Public Service, campus projects, athletics and more. Those funds made a significant difference in the lives of our students, allowing them to access the resources they need to thrive in their academic, personal and professional lives.
Don't miss this opportunity to raise awareness and funds for your project!
To be considered for promotion during the MSU Denver Day of Giving, campus organizations must submit a project proposal, including a brief description, a fundraising goal and an explanation of how the funds would be used. Crowdfunding projects must support a campus organization, fund, department or program. Examples of successful past projects can be found on last year's Day of Giving crowdfunding page.
Submissions will be accepted through Feb. 28.
For more information, contact Bre Milnes, senior director of Advancement Communications and Giving.
Topics: Advancement, Community, Events
Edit this page