Early Bird
Investing in the next generation of care
Centura Health announces $165,000 partnership with Health Institute to establish purpose-driven student success and employment pipeline.
February 25, 2020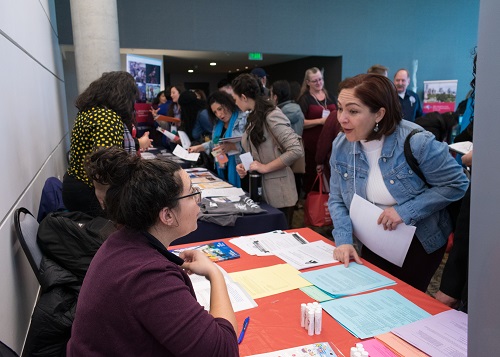 Amy King, senior vice president and chief people officer of Centura Health, unveiled plans for a partnership between the health care system and Metropolitan State University of Denver's interdepartmental Health Institute.
She announced Friday that $165,000 from Centura would support establishment of a new cohort-based initiative known as Centura Scholars, modeled after the Health Care Opportunities Program, at the Institute's "Navigating Your Health Career" event for future industry professionals in the SpringHill Suites.
"To us, this partnership is all about collaboration," King said, addressing students in the crowd. "You're going to an awesome institution that's sitting down and thinking about where health care is now and where it's heading in the future. We need people like you to help transform that."
The partnership is designed to support academic success and transition to meaningful careers within the company, highlighting the culture, values and opportunities available to them. Centura's investment in this program will support:
Scholarships for 15 students to participate in the program
A health-career navigator to be housed half-time each at a Centura office and at MSU Denver
Stipends for each student and supplies to support programming
A mentor within Centura to help explore potential career opportunities
MSU Denver's HCOP is a 9-month program that spans the academic year and includes scholarships, stipends and specialized curricula with topical trainings, proactive advising and mentoring to help students fill in-demand health care positions. Students also participate in primary-care exposure and job-shadowing opportunities, community and team-building activities to build social capital, and activities to promote wellness and stress reduction.
In addition to the partnership announcement, Friday's event served to connect students with careers, scholarships, student services and networking opportunities, providing them with information about opportunities in wellness, behavioral health, clinical positions and more.
King detailed her experience of being a first-generation student who dropped out of college before returning to take night classes while working full time. She noted the natural fit of working with a mission-driven institution such as MSU Denver.
"You're here because you're part of a greater whole, a greater good," she said. "It's a calling. And one of the most important questions you can ask yourself is: What's your why?"
College of Professional Studies Dean Jenn Capps reiterated this sentiment and the value of the partnership, creating an industry-funded health-scholars pipeline.
"Our programs are all about figuring out what your 'why' is and what it's all about," she said. "We know the value of a collaboration like this and the contribution of everyone here."
Topics: Colorado, Community, Denver, Funding, Grant, Health, Health Institute, Student Success
Edit this page