Early Bird
Upcoming event busts health care career myths
Encourage students to attend Navigate Your Health Career on Feb. 21 to gain insight on professional paths and options.
February 4, 2020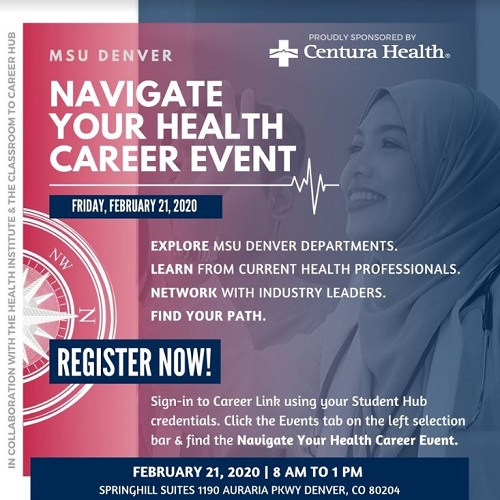 Students interested in health-related fields are encouraged to attend Navigate Your Health Career on Feb. 21. The event aims to highlight various career pathways and outcomes through panel discussions and opportunities to increase social capital. Students will also have the opportunity to meet with Metropolitan State University of Denver Health Institute departments and learn from industry leaders.
Navigate Your Health Career
Feb. 21
8 a.m.-1 p.m.
SpringHill Suites Downtown Denver
To register:
Visit the Student Hub.
Scroll down to CAREERS/JOBS and click CAREER LINK.
Sign in using your Student Hub credentials.
Click the Events tab on the left selection bar and select the Navigate Your Health Career Event.
RSVP before Friday and enter to win prizes such as parking passes and Tivoli Brewing Co. gift cards.
In addition to exposing students to new areas of study, the event aims to address higher-education myths and stigmas, helping students understand how to make the most of their learning experience.
MYTH: Students need to know exactly what they want and pick the "right" career path.
TRUTH: Many successful people have careers they could have never predicted. Rather than being paralyzed by thinking they have to have it all figured out, students should build their way forward.
To help students take the first step, the event will feature clinical, behavioral/mental-health, wellness and community health leaders sharing their stories and the multiple (often nonlinear) career paths.
MYTH: Education is just about getting a degree to get a job.
TRUTH: A student's educational experience is an opportunity "try things on" and a springboard into a successful career. It's an opportunity to find a problem you want to solve, a community you want to serve and/or how you want to contribute.
To connect students with opportunities, the event will include businesses and organizations with a variety of undergraduate employment opportunities to help students gain valuable skills and connections.
MYTH: Students should wait until after graduation to make connections, build hands-on experience and prototype their career paths.
TRUTH: Don't wait – get started now! The undergraduate experience is an ideal time to complete internships, get entry-level jobs in health-related fields, join clubs and form relationships with faculty and potential mentors at the Navigate Your Health Career Event.
This event was created in collaboration with the Health Institute and the Classroom to Career Hub and is proudly sponsored by Centura Health. To learn more, please contact Carolyn Bryan, health-career navigator, Health Institute.
Topics: Events, Excellence, Health, Health Institute, Innovation, Student Success
Edit this page