Early Bird
Guiding futures: Carolyn Bryan
Health-career navigator talks therapeutic yoga, public health and how students can win a Kindle Fire tablet.
February 17, 2020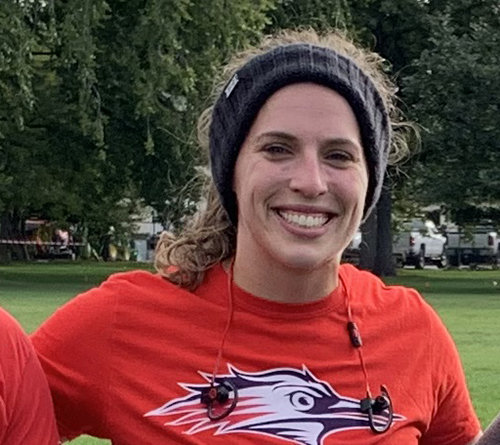 Metropolitan State University of Denver's Health Institute is built to address Colorado's workforce and health-equity needs. But who helps Roadrunners figure out how to plug into the eight allied-health and eight nonmedical support staff for every physician?
We'll be profiling each of the institute's four health-career navigators over the next few months to learn more about how they help students succeed, thanks to efforts such as the Health Career Opportunities Program and DACA/Undocumented Student Health Careers Opportunity Program scholarships.
But first, we caught up with Carolyn Bryan, MPH, to learn a bit about her background and an upcoming event to help students plug into a future in health care.
Early Bird: Could you tell us a little about yourself?
Carolyn Bryan: I'm originally from New Jersey; after I completed my master's in public health, I was doing clinical research in breast oncology at Columbia University before my partner got a job and we moved to Denver this past July. I've always had an interest in working with students and wanted to use my public-health background, plus I love the mission of MSU Denver, so it really was a perfect fit.
Why is public health important?
Knowledge alone isn't enough to change behavior. People know smoking is bad for them, but they also need the support to quit. That's what public health does – it helps move beyond simple behavior to create permanent change.
There's also a paradox of visibility: When it's working well, no one really sees that it is; but when it's not, everyone does.
What do you enjoy about being a health-career navigator?
I like working with students to really dig in and help them figure out a plan for their interests. They might come in saying, "I want to be a doctor or a nurse," but the real question is: What do you like about it? They might not realize there are multiple career paths to create a rewarding and sustainable life for themselves. We help them build connections with mentors, and we're asking them who's coming along with them on the ride.
Do any specific stories come to mind related to the mentorship role?
Yes! I had one nontraditional student who was really interested in internal medicine; he was able to connect with Dr. Zorrilla (at the Auraria Health Center), who had a similar nontraditional path into medicine. It's incredibly valuable for students to see and learn from someone with a similar path in their career – and life.
Could you tell me a bit about the upcoming Navigating Your Health Career event on Friday? Sure! It's going to be a great chance for any student to find out more about all the health-related career options by meeting directly with leaders in the field. There'll be a broad array of folks on panels from different health disciplines, chances to learn about entry-level positions they can pursue today and a bunch of giveaways – including Amazon Echoes, Kindle Fires and parking passes.
I understand you're a yoga instructor – how does that apply to the work you're doing today?
In grad school, I took an interest in therapeutic yoga. During one of my internships, I actually saw doctors writing prescriptions for it for use in hospitals and to address addiction and trauma. I got certified and began teaching in a recovery center; today, I teach at Kindness Yoga and incorporate mindfulness practices to help our students connect with their breath.
Within health care, it's really important: A cancer patient is managing much more than just cancer; they're dealing with stress and anxiety as they navigate what can be a long and draining treatment. To be able to facilitate that, helping people come into their own spaces, is amazing.
Keep an eye out for more profiles on health-career navigators coming soon in the Early Bird!
Topics: Academics, Events, Excellence, Health, Health Institute, Inclusion, Innovation, Save the date, Student Success
Edit this page