Early Bird
Trustees approve 29 faculty sabbaticals, create Center for Entrepreneurship
Gathering last week was first for four new trustees and included updates on strategic planning and state funding.
February 12, 2020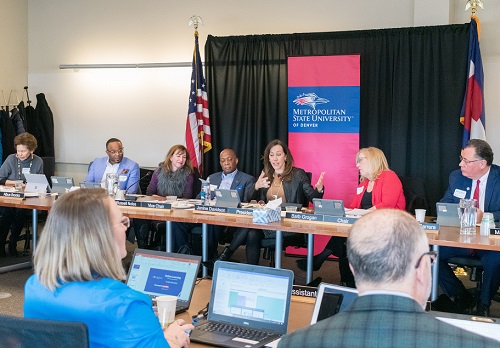 Metropolitan State University of Denver's Board of Trustees met Thursday and Friday. Here are the highlights from two half-days of committee meetings, presentations, robust discussion and big decisions.
New trustees bring fresh energy, big ideas
The University's four new trustees were on hand for their first meeting. Albus Brooks, Mario M. Carrera, Kristin Hultquist and Mike Johnston each shared a little about their careers and connections to MSU Denver. Carrera and Hultquist were first-generation college students, much like so many Roadrunners. Brooks and Johnston are former public servants who worked with MSU Denver during their political careers and spoke highly about the University's mission of advancing students' lives.
During the meeting, the board got word that another trustee had been appointed by Gov. Jared Polis. Emily Garnett is an attorney with the U.S. Securities and Exchange Commission and a leader in the Colorado community. Garnett will take the seat of outgoing Trustee Elaine Gantz Berman, who served on the board since 2015. Gantz Berman was presented with flowers, a plaque and framed photos of her time at MSU Denver.
Board Chair Barb Grogan saluted Gantz Berman for her dedication to the University. "I just want to tell you … what an honor it has been to work with you," Grogan said, "and how important your work has been in our core mission of serving students."
Latest update on state funding
Larry Sampler, vice president of Administration and Finance, provided an update on state funding. He said that under the current proposal of a flat 2.5% increase in state funding, MSU Denver would receive an additional $3.7 million. With core needs of $9.7 million, that leaves a $6 million gap in funding, assuming a flat enrollment rate and no tuition increase.
MSU Denver has asked for a $9.7 million adjustment to its base funding so that the University does not need to put an unacceptable financial burden on students through tuition increases. MSU Denver also joined with higher-education presidents across Colorado to ask for a 5% general-fund increase, rather than the 2.5%, with the funding allocated strategically rather than as a flat rate.
The 5% increase combined with a 3% tuition increase (the state-proposed tuition cap) would help MSU Denver close the $6 million gap in its base budget. Sadly, even with that increase, the University would still be unable to provide additional investment in student-support services and financial aid.
MSU Denver also continues to push for a revision of the funding formula to better align with the state's higher-education goals.
Centered on entrepreneurs
The board approved the creation of a Universitywide Center for Entrepreneurship. College of Business Dean Ann Murphy, Ph.D., said the goal of the center will be to encourage and support economic development and social mobility for students and the community.
"We've been working in this arena already without a formal structure," she said. "So, this will help us bring all of that great work together."
A gift from the Kemper family will fund an endowed chair for the center. Its work will be organized around three pillars: education and training; community engagement and events; and business support.
The center will scale up some of the great entrepreneurship-focused work already happening at MSU Denver, such as the faculty entrepreneurship fellows program; supporting student participation in the Small Business Institute case competition, in which Roadrunners have placed in the top three nationally for the past two years; hosting the Executive on Campus event and other campus speaking events; and partnering with Denver-area Rotary Clubs to run Launch Denver, an 8-week program to help small-business owners develop a business plan. Stay tuned to the Early Bird for more details on this exciting new center.
Next steps in strategic planning
Cathy Lucas, vice president for Strategy, and Matt Makley, professor of history, shared an update on the strategic-planning process with trustees.
Over the past few months, the Strategic Planning Team has worked diligently to synthesize feedback and ideas from more than 1,500 students, faculty, staff, alumni and community and business leaders. With that information, the SPT developed five pillars that will form the foundation of the new plan.
The five pillars are: 1) Student Access and Achievement; 2) Civic and Economic Catalyst; 3) Diversity, Equity and Inclusion; 4) Agile and Sustainable; and 5) Student-centered Academic Excellence.
The next step in the process is the Goals Conference on Friday, where senior leaders, the SPT and implementors such as associate vice presidents, deans, associate deans and chairs will come together to develop two to three goals for each pillar. After that, a draft plan will be shared with internal and external stakeholders for feedback before a final presentation to the board in June in advance of the July 1 launch.
Celebrate sabbaticals
Bill Henry, Ph.D., vice provost for faculty affairs, recommended the approval of 29 requests for faculty sabbaticals for the 2020-21 academic year. Henry said the pool was the largest in school history and that approval would represent a nearly $500,000 investment in the faculty's academic work.
Henry also commended outgoing Provost Vicki Golich, Ph.D., for her tireless advocacy on behalf of faculty sabbaticals. "Of all the many things she has done for MSU Denver, this is one of her most robust and important legacies," he said. "I just want to take a moment to thank her for that."
The board unanimously approved all 29 recommendations, which included the following faculty members:
Carla Agular, Ph.D., Music, fall 2020
Mohammed Akacem, Ph.D., Economics, spring 2021
Shelby Balik, Ph.D., History, spring 2021
Kenneth Bisio, Journalism and Media Production, AY 2020-21
Nicolas Cachanosky, Ph.D., Economics, fall 2020
Donald T. Chang, Ph.D., Marketing, fall 2020
Janos Fustos, Ph.D., Computer Information Systems and Business Analytics, spring 2021
Mingli He, Ph.D., Engineering and Engineering Technology, spring 2021
Michael Hengst, Ph.D., Music, spring 2021
Tina Herring, Ph.D., Special Education, Early Childhood, and Culturally and Linguistically Diverse Education, fall 2020
Matthew Jenkins, Art, fall 2020
Morey Kitzman, Ph.D., Psychological Sciences, fall 2020
David Klein, Industrial Design, fall 2020
Cynthia Kuhn, Ph.D., English, fall 2020
Chalane Lechuga, Ph.D., Chicana/o Studies, spring 2021
LiYing Li, Ph.D., Criminal Justice and Criminology, fall 2020
Jillian Mollenhauer, Ph.D., Art, fall 2020
Jessica Parker, Ph.D., English, spring 2021
Vincent Piturro, Ph.D., English, spring 2021
Jennifer Powell Bolton, Ph.D., Nutrition, spring 2021
Joseph Quatrochi, Ph.D., Human Performance and Sport, fall 2020
Gerald Shultz, Ph.D., Mathematical and Computer Sciences, fall 2020
Helle Sorensen, Hospitality, Events and Tourism, fall 2020
Jane Chapman Vigil, Ph.D., English, spring 2021
Nicole Vowles, Ph.D., Marketing, fall 2020
David Weiden, Ph.D., Political Science, fall 2020
Ann Williams, Ph.D., Modern Languages, spring 2021
Kip Wotkyns, Journalism and Media Production, spring 2021
Runing Zhang, Ph.D., Engineering and Engineering Technology, fall 2020
Board of Trustees business meetings are open to the public. You can also livestream audio of the entire meeting on the trustees' website.
Topics: Board of Trustees, Events, Funding, Policy
Edit this page