Early Bird
An update on the search for a new athletic director
The search committee is seeking candidates who will support student-athletes and staff and reinforce NCAA Division II philosophy.
February 10, 2020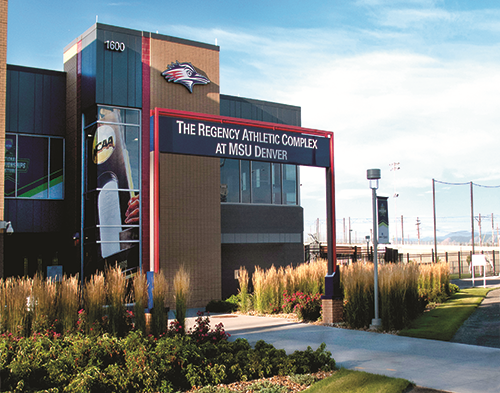 Following the departure of Athletic Director Anthony Grant, Metropolitan State University of Denver formed a search committee to select the University's next Athletics leader.
The process began with President Janine Davidson, Ph.D., and various Athletics stakeholders discussing the ideal qualities for top candidates. Central to Davidson's vision is belief in the NCAA Division II philosophy of "life in the balance." According to the organization, that philosophy "captures multiple facets of the Division II student-athlete experience: comprehensive learning and academic development, high-level athletics competition, and community engagement."
Additionally, Davidson and stakeholders agreed to prioritize candidates with a demonstrated history of supporting department staff, coaches and athletes, and demonstrated success in creating winning traditions.
The committee is working with search firm Parker Executive Search, which has consulted a variety of campus constituent groups to develop a high-quality job description. Parker Executive Search is actively engaged in finding and recruiting top-quality candidates for the position. More information will be available in the Early Bird throughout the search process. Please contact search-committee Chair Shawn Worthy, Ph.D., for more information.
Members of the search committee include:
Roy Alexander, President's Community Cabinet representative
Stephanie Begley, assistant director of sports performance/head athletic trainer
Rob Cohen, former MSU Denver Board of Trustees chair, chair and CEO of the IMA Financial Group Inc.
David Fine, J.D., general counsel
Jenny Glenn, head coach, Women's Volleyball
Tanya Haave, head coach, Women's Basketball
Bill Hanzlik, former MSU Board of Trustees member and NBA basketball player
Jeff Helton, Ph.D., associate professor, Health Care Management
Braelin Pantel, Ph.D., associate vice president for student engagement and wellness/dean of students
Jack Pogge, former chair, MSU Denver Board of Trustees
Joseph Quatrochi, Ph.D., professor, Human Performance and Sport
Brandi Rideout, director, Alumni Programs
Vaughn Toland, executive director, Admissions and Outreach
Cain Van Heyningen, MSU Denver student-athlete and Student Athlete Advisory Council member
Shawn Worthy, Ph.D., professor, Human Services, search-committee chair
Topics: Athletics, Community, Hiring, Inclusive leadership
Edit this page