Early Bird
Anthony Grant to step down
The Roadrunners athletic director has accepted a role at MIT after 4-plus years of service at MSU Denver.
December 9, 2019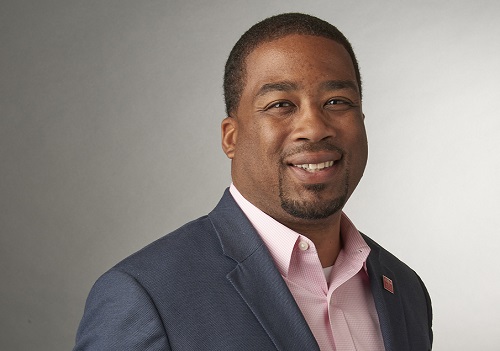 G. Anthony Grant, Ph.D., will be leaving Metropolitan State University of Denver after more than 4 years of service as athletic director. He has accepted a role as director of athletics and head of the Department of Athletics, Physical Education and Recreation at the Massachusetts Institute of Technology. In this new capacity, Grant will oversee the entire athletics operation at MIT, including club sports, intramurals, campus recreation, physical education and intercollegiate athletics. He plans to be at MSU Denver through the holiday break.
"Anthony has been a great leader for our Athletics program and the University as a whole," said President Janine Davidson, Ph.D. "He's also a recognized talent in the NCAA, so it's no surprise he's been offered this opportunity at such a prestigious university.

"I've always been impressed by his focus on the student-athlete experience, expertly balancing achievements on the field with those in the classroom."
Davidson also said an interim director will be put in place as soon as this week and that MSU Denver would be quickly launching a search for the next AD. Stay tuned to the Early Bird for updates.
Grant's focus on student success was never more apparent than during the 2017-18 academic year, when the Roadrunners set a record for the most student-athletes to make the Athletics Director Honor Roll, which requires earning a semester GPA of 3.5 or above. He said he is proud of the team he has put together in his time at MSU Denver because each staff member is committed to providing a well-rounded experience for students.
"This decision is bittersweet," Grant said of his choice to move on. "I feel like our team was making great strides toward its goals but that there was still much more left to accomplish. I hoped to be here to experience achieving those goals with the team, however I am confident that our athletics programs are on the right track, and I look forward to following their future successes."
Among his many notable achievements was raising the profile of the Athletics program and University by facilitating national championships on campus. Grant credits his staff for putting together successful high-profile events such as the 2016 NCAA Division II Spring Sport Festival and the NCAA D-II Softball World Series. This week, MSU Denver will host the NCAA D-II Volleyball National Championship as well.
At last week's Board of Trustees meeting, Chair Barb Grogan shared her gratitude for Grant's work. "I just want to say thank you for all you've done for MSU Denver and our students," she said. "What a joy it has been to work with you."
Grant expressed his pride in the progress made by MSU Denver's Athletics program over the past 4 years. With a department-level strategic plan in place – which he co-created – he is confident the department will continue to move in the right direction. And he is also proud of the part he played in helping the program better align its priorities with the mission of the University as a whole.
"MSU Denver is a special place," he said. "I was always so inspired to see people come together around the shared mission of supporting students. I will miss that unique culture. And it's like I've said many times before: Once a Roadrunner, always a Roadrunner."
Topics: Arrivals and departures
Edit this page