Early Bird
Inside the President's Cabinet
The meeting introduced a new SGA president, recognized Athletics leaders and covered the Online and Digital Course Materials Policy.
January 15, 2020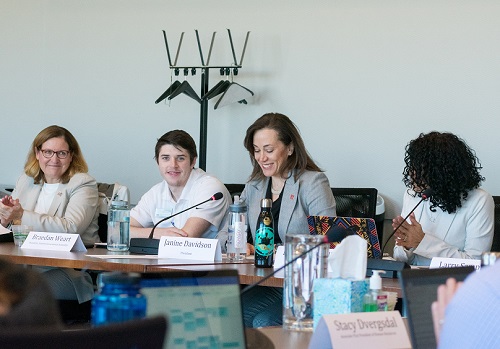 The Jan. 8 meeting of the President's Cabinet included two new faces: Associate Director of Athletics for Marketing and Promotions/ External Relations John Kietzmann, who will serve as interim Athletics director, and newly appointed Student Government Assembly President Braedan Weart. A Denver native, Weart has been involved in SGA for three years. He is a junior pursuing a political-science degree and is an advocate for students experiencing housing and food insecurity.
President's Team Award
The Cabinet also recognized several members of the Intercollegiate Athletics team with a President's Team Award for their efforts in bringing the NCAA Division II Women's Volleyball National Championship to the Auraria Campus in December.
Receiving the award were:
Erin Hiltner, associate athletic director for student services
Jerrid Oates, assistant director of athletics for facilities operations
Jenny Glenn, head coach, Volleyball
Elaine Becks, business manager
Steph Begley, assistant athletic director for sports performance/head athletic trainer
Alex Pappas, assistant athletic director for compliance and internal operations
More than 1,000 people attended the championship game, and multiple NCAA representatives said it was the highest-attended Division II volleyball championship in recent memory.
"That's a huge compliment, and it wouldn't have been possible without a lot of logistical work and planning," said University President Janine Davidson, Ph.D. "It's so fantastic to see this kind of exposure for MSU Denver."
Policy updates
Provost Vicki Golich, Ph.D., provided an update on Prior Learning Policy developed by the Faculty Senate Academic Policy Committee. Golich noted that, as Metropolitan State University of Denver is an institution that supports a high number of transfer students, accepting alternative credits and prior learning is valuable to our students.
Katia Campbell, Ph.D., president, Faculty Senate, and Matt Griswold, Ph.D., associate vice president, Online Learning, shared progress on the Online and Digital Course Materials Policy. The policy outlines the rights of University employees to create, reproduce, distribute and maintain ownership of online course materials during their University employment — as well as what specific content is protected. The policy allows the University to maintain some nonexclusive rights to the materials after an employee leaves the University if the materials were developed through the substantial use of University resources, i.e., instructional design support or dedicated funds.
The Faculty Senate Academic Policy Committee will now put the policy through additional review before returning it to the Faculty Senate for a full vote.
The Intellectual Property Policy is open for comment through Tuesday. The Academic Freedom Policy is with the APC for revisions and will soon be presented to the full Faculty Senate.
New trustees announced
Following the departure of Trustees Jack Pogge and Walter Isenberg, MSU Denver welcomes four new board members.
Albus Brooks, vice president for strategy and business development at Milender White and former Denver City Council representative
Mario Carrera, board director for SCL Health and former chief revenue officer for Entravision
Kristin Hultquist, founding partner at HCM Strategists LLC and former senior advisor to the undersecretary of the U.S. Department of Education
Mike Johnston, CEO of the Piton Foundation and former state senator and U.S. Senate candidate
A fifth trustee will be identified soon. Barbara Grogan will serve as board chair, and Russell Noles will serve as vice chair.
Additional updates
Michael Benitez, Ph.D., vice president, Diversity and Inclusion, announced the development of a new Diversity, Equity and Inclusion Council that will include members of the Hispanic-Serving Institution Implementation Team and the Inclusive Leadership Implementation Team. Other members of the campus community are welcome to join.
Mark your calendars for Noel Distinguished Professorship and Bridge Speaker activities Feb. 26-27. This year's speaker is MSNBC's Joy Reid.
The search for a new executive director for Inclusion and HSI will begin soon following the departure of Angela Marquez, Ph.D.
On Jan. 14, Davidson, together with Colorado Mesa University President Tim Foster, Ph.D., will present to the Colorado State Legislature's Joint Budget Committee.
MSU Denver Day at the Capitol is Feb. 4. Stay tuned to the Early Bird for more details on the time-off request process for staff members who would like to attend.
Senior leadership will meet soon to narrow down five strategic-plan pillars. More details will be forthcoming.
Look for the next phase of MSU Denver's "Reimagine Possible" advertising campaign across town now.
Whei Wong Howerton has accepted the associate vice president for Marketing and Brand Strategy position and will begin Jan. 20.
MSU Denver's Advancement team raised approximately $500,000 in December. The team has raised 54% of its fiscal 2019-20 goal.
The Faculty Senate approved the Instructional Resources Committee bylaws Dec. 4.
One finalist has been identified for the associate vice president for Enrollment Management position, and a final candidate for the director of industry partnerships will be announced soon.
Roadrunners Athletics sports scores and information are now available via text message.
The University events calendar has been synced with the Roadrunners Athletics calendar.
The new staff compensation structure is in place as of Jan. 1. More information will be available soon. The faculty compensation study will begin this spring.
The provost search committee is reviewing candidates this week, and the search firm for the athletics-director position, Parker & Associates, will visit campus Friday to meet with University stakeholders.
Human Resources will soon issue a Request for Proposals for a new cloud-based HR solution.
University members are reminded to be aware of any suspicious emails and to send all spam and potential spam to spam@msudenver.edu.
Topics: Academics, Events, Inclusion, Inclusive leadership, Policy, President Davidson, President's Cabinet
Edit this page