Early Bird
Legacy of leadership
BOT bids farewell to longtime trustees Jack Pogge and Walter Isenberg after eight years of service.
December 12, 2019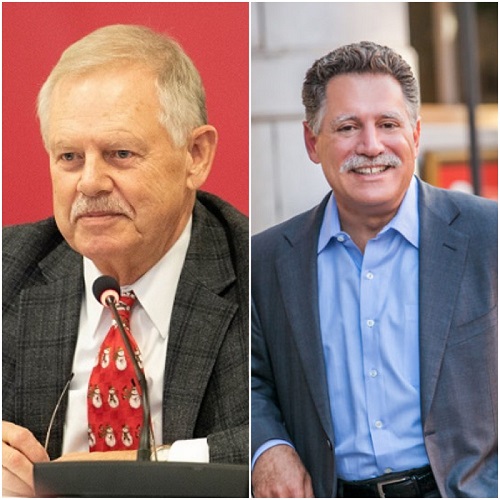 Jack Pogge (left) and Walter Isenberg (right) have served on Metropolitan State University of Denver's Board of Trustees since 2012. With their terms set to expire, the board celebrated their legacies at its final meeting of 2019 last week.
Pogge served on the board for eight years, with the past two as chair. He was appointed in 2012 and reappointed in 2013 and 2017. He served on the Governance Committee and was also on the search committee that brought President Janine Davidson, Ph.D., to the University in 2017.
Trustee Barb Grogan, who was later named Pogge's successor as chair, called his leadership "instructive" and "inspiring" as she moves into the new role. "We have been through some interesting times together," she said. "I am grateful for your leadership and your friendship."
Davidson praised Pogge for his "wisdom and wit" and his calm demeanor. "You have been the model board member," she said. "I want to say thank you."
In his characteristic way, Pogge shared a brief but poignant message of gratitude. "I've come to really appreciate the mission of this University, the enthusiasm of the kids that go here … and how we are a life-changing organization for them," he said. "It's been a pleasure, and I feel like I'm leaving this work in great hands."
Isenberg was unable to attend the meeting but had already been saluted at the board retreat earlier in the fall. He was appointed to the board in 2012 and reappointed in 2016, and he served on the Governance and Academic and Student Affairs committees.
"The best part about being on the board were the interactions and presentations we received from faculty and students about the amazing things that happen at MSU Denver every day," Isenberg said. "The stories were inspiring and affirmed my deep affection for the University."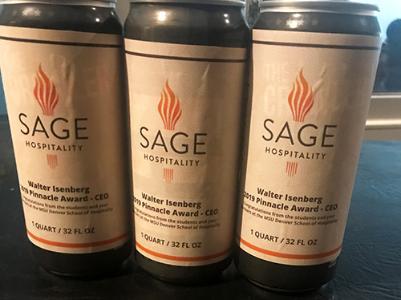 As the president of Sage Hospitality, a leading hotel-management company in Denver, Isenberg has provided countless internships, scholarships and career starts to many at MSU Denver. Sage also partnered with the University to develop the Hotel and Hospitality Learning Center. His impact was recently celebrated by MSU Denver's Beer Industry Program, which made custom "crowlers" (pictured right) in honor of his being named one of the Denver Business Journal's Most Admired CEOs for 2019.
Isenberg was also on the board in 2012 when it voted to create a special tuition rate for undocumented students. "As the son of immigrants, this vote – my first as a trustee – will always be the most profound and memorable moment," he said.
"Walter has been a champion and supporter of our work for more than 25 years," Davidson said. "I want to thank him for his commitment to our students and his leadership on our board."
Topics: Arrivals and departures, Board of Trustees
Edit this page