Early Bird
Congratulations to new board leaders
Graduate and longtime advocate Russell Noles elected MSU Denver Board of Trustees chair; Hultquist elevated to vice chair.
February 8, 2022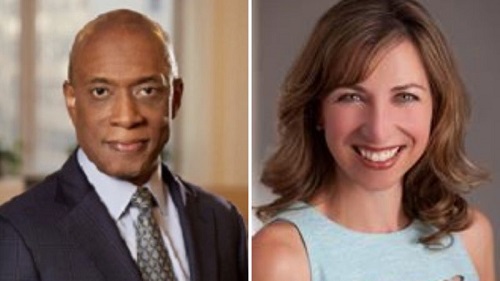 As announced in the Early Bird last week, the Metropolitan State University of Denver Board of Trustees elected two new leaders and bid farewell to an outgoing chair.
Russell Noles elected board chair
Russell Noles, a proud MSU Denver alumnus ('81), will become the first graduate to chair the Board of Trustees. Noles will replace Barbara Grogan, outgoing chair and longtime MSU Denver champion, who was appointed to the board in 2015.
Also, Kristin Hultquist was elected by her fellow members to serve as vice chair.
"MSU Denver has the most committed and engaged trustees in higher education," said President Janine Davidson, Ph.D. "We are so thankful to Barbara Grogan for her years of service to our students and mission, and it is very exciting to see Russell Noles and Kristin Hultquist bring their visionary leadership to these important roles."
Noles, who is also the first African American to chair the board, chose to pursue his undergraduate degree at MSU Denver because of its Cooperative Education program and a scholarship that paid for tuition, books and fees the first year and provided a job that helped fund his tuition in subsequent semesters. After earning a degree in Accounting, he spent more than 30 years in the telecommunications and financial-services industries as a business strategist, financial leader and executive. He held senior leadership positions with Qwest Communications and the St. Paul Travelers Cos. before serving as chief operating officer for Nuveen, which Noles helped TIAA acquire as a wholly owned subsidiary in 2014. At Nuveen, he helped oversee nearly $1 trillion in assets and was responsible for executive oversight of the company's finance, information-technology, operations and risk-management functions. Noles retired from the firm in March 2019 and in April 2019 was appointed by Gov. Jared Polis to the MSU Denver Board of Trustees.
"MSU Denver opened the doors to my career," Noles told RED in 2021. "I relied heavily on the advice I received from my Accounting professors, and it paved the way for my career."
Noles also has given generously to the University for more than 30 years with his time, treasure and talent. In addition to serving the Board of Trustees as vice chair since 2019, Noles is the chair of the board's Finance Committee, serves on the Governance and Academic and Student Affairs Committees and the Hospitality Learning Center board and is a former member of the Alumni Association and the MSU Denver Foundation board of directors. He also has spent time in the classroom as a guest lecturer, offering students the same kind of guidance and advice he got as a Roadrunner.
Kristin Hultquist elected vice chair
Kristin Hultquist was appointed to the MSU Denver Board of Trustees in December 2019 and was elected by her fellow members to serve as vice-chair.
Hultquist is a founding partner of HCM Strategists (HCM), an impact-driven consulting firm that believes in the transformative power of education and lifelong learning to improve social and economic mobility for communities that have been marginalized and traditionally underserved. Alongside national and local philanthropies, advocacy and membership organizations, state agencies, large postsecondary systems, the U.S. Chamber of Commerce and major media outlets like NBC and Univision, HCM partners with clients to help drive national and state narratives, effective stakeholder engagement and innovative education policy in all 50 states and at the federal level.
Hultquist's policy expertise has been sought in testimony four times by the US Congress. An author of opinion editorials appearing in the New York Times and USA Today, her work has helped secured regulatory and statutory changes that have simplified federal financial aid to serve millions more students.
Her belief in the transformative power of higher education opportunity is a direct result of her own educational experience. Prior to forming HCM Strategists, Hultquist served as senior advisor to the U.S. Undersecretary of Education where she helped develop the Secretary's action plan in response to the Spellings Commission report. She previously served as the program director of the education division of the National Governor's Association and directed the Washington, D.C., office of the National Center for Public Policy and Higher Education.
A Pell Grant recipient and the first college graduate in her family, Hultquist earned her bachelor's degree in political science from California Polytechnic State University in San Luis Obispo and a master's degree in public policy from Georgetown University. She also serves on the boards of the Institute for Higher Education Policy and Generation Hope and has assisted selection of the Scholarship America Dream Award recipients since 2019. She and her husband, Brent, share four children and live in Parker.
Topics: Board of Trustees
Edit this page