Early Bird
Trustees elect new board leadership
January meeting includes positive reports on fundraising, SpringHill Suites.
February 2, 2022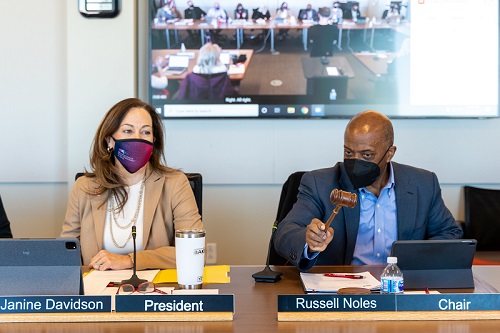 The trustees of Metropolitan State University of Denver elected Russell Noles and Kristin Hultquist to serve as board chair and vice chair, respectively, at the board meeting Friday. Noles, who has retired as executive vice president and chief operating officer of investment-management firm Nuveen, is the first MSU Denver graduate (Accounting '81) to serve as chair as well as the first Black chair of the board.
"We're really lucky to have Russell in this position," said MSU Denver President Janine Davidson, Ph.D. "We've been talking about getting our budget processes to a new level, to modernize the way we think about our business model and financial planning, so this is a perfect time for him to be the chair."
Noles was appointed to the board in early 2019 and has served as vice chair since December of that year. He said the way MSU Denver faculty members engage with students is why he originally joined the board of his alma mater.
"They have the combination of academic pedigree as well as practical work experience to be able to give students an enriched education that they're not able to get at other places," Noles said. "I've benefited from that, and that's why I wanted to be on this board – so that I can continue to perpetuate that for other students. I feel honored and privileged to be able to serve as the chair."
Outgoing board chair Barb Grogan is remaining on the board to focus on the University's comprehensive fundraising campaign, which is in a strong position early on.
Christine Márquez-Hudson, vice president of University Advancement, said MSU Denver has raised more than $5.6 million this fiscal year with another $5 million expected before the end of June. The goal for the whole fiscal year is $7 million.
"We're going to blow past that goal," she said. "We are benefiting from all of those seeds that we have planted. We are benefiting from the great vision that (the trustees) have helped create. We are benefiting from the excitement that we are creating in our donors."
President's report
Davidson recounted her briefing at the state's Joint Budget Committee, where she reiterated MSU Denver's long-term needs and the University's support of a joint proposal from Colorado's higher-education leaders. The request includes $179.6 million to cover core minimum costs at all of the state-supported colleges and universities and funding dedicated to closing the state's attainment gaps.
Davidson also shared that two exciting new MSU Denver programs designed to boost credential attainment among stopped-out students are up and running. They are a reverse transfer-articulation agreement that makes certain former MSU Denver students eligible for an associate's degree from the Colorado Community College System; and a Finish What You Started program that provides scholarships and resources for adult learners to complete their degrees at MSU Denver. Both initiatives have engaged students this spring.
Hotel humming
Larry Sampler, vice president for Administration and Finance, provided a glowing update on the SpringHill Suites by Marriott, which included 45% higher revenue than expected in 2021. Sampler said the campus hotel has the second-highest traveler rating among 181 Denver hotels on tripadvisor.com.
Academic approvals
A number of new academic programs were approved, including majors in Business Administration, Human Resources Management and Nutrition Studies and minors in Banking, Climate Change, and Instructional Design and Technology.
The trustees also approved the tenure recommendation for Michael Benitez Jr., Ph.D., vice president for the Office of Diversity and Inclusion, and professor-emeritus status for retired Political Science Professor Norman Provizer.
Students recognized
Two student groups attended the board meeting. The trustees celebrated the MSU Denver volleyball team, which earned a No. 1 national ranking for the first time in school history and reached the Sweet 16 of the NCAA Tournament. Recipients of the first MSU Denver Presidential Federal Internship were also on hand to discuss their excitement about spending 10 weeks in Washington, D.C., this summer.
Video of past board meetings can be found on the MSU Denver website. The next board meeting will be March 18.
Topics: Board of Trustees, Inclusive leadership
Edit this page