Early Bird
Staff Senate recap
Members meet the new director of Engagement, Culture and Organizational Development, discuss vaccine mandates and Covid-19 protocols.
August 16, 2021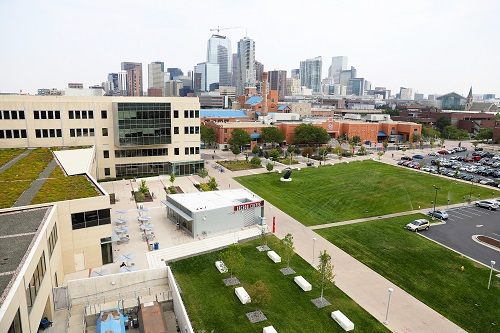 The meeting of the Metropolitan State University of Denver Staff Senate opened Tuesday with Staff Senate President Rebecca Reid leading a brief discussion about everyone's feelings in light of updated mask mandates and Covid-19 protocols. Responses ranged from staff members saying they feel anxious about returning to campus and wearing a mask all day to those who have missed their sense of community and are grateful to be back with fellow Roadrunners. Reid stressed the importance of acknowledging those feelings and that when so much is up in the air, it can be comforting to know we're not in it alone.
Please refer to this Early Bird article from last October if you need information about accessing confidential counseling and wellness services.
New director of Engagement, Culture and Organizational Development
Imani Morning, the new director of Engagement, Culture and Organizational Development, joined the Staff Senate to say hello and introduce herself. Morning comes to the Roadrunner family from Denver Public Schools and is excited to join the community. She spoke about her desire to provide intentional development opportunities and proactively provide for staff needs, the importance of living our CADRE values through our actions and the value of having a shared language to help all staff members operate within the same expectations.
Morning went on to talk about her belief that silos continue to be an unnecessary challenge in any organization, saying the inclusion of "diverse perspectives produce(s) a more fruitful outcome."

"The more people we can include in the process, the better the process will be," she added.
Vaccine mandates and Covid-19 protocols
Updated indoor mask requirements went into effect Aug. 9, requiring everyone on campus, regardless of vaccination status, to wear a mask in indoor settings, with few exceptions:
Masks will not be required outdoors.
Vaccinated individuals may remove masks indoors when able to maintain 6 feet of distance, which could include faculty teaching.
Employees with private offices with a door may remove masks when alone.
At the time of the Staff Senate meeting, there was uncertainty about how the vaccination status of students and members of faculty and staff would be ascertained beyond self-reporting. Then, on Wednesday, the University put out a series of important communications regarding vaccine verification and testing for students and employees that included information on submitting proof of vaccination and weekly testing requirements for those who are unvaccinated.
Stay up to date with the latest Covid-19 protocols and campus operations by reading all email communications carefully and checking the Early Bird or Safe Return to Campus webpage for daily updates.
Committee updates and community announcements
Read the Budget Recommendation Committee meeting recap for information about fall enrollment numbers and Phase II Budget recommendations from the BRC, including 1.75% across-the-board base-compensation increases and $2,000 one-time stipends for faculty and professional staff members. Once approved by President Janine Davidson, Ph.D., the recommendations will be submitted to the Board of Trustees for approval at its Sept. 4 meeting. The approved budget and any compensation adjustments will be effective Oct. 1.
See the Policy Tracking document to learn more about policy progress, including the Staff Alternative Work Arrangements policy.
The Elections Committee says there will be future discussions about the timing of Staff Senate elections to be more inclusive of the student population.
The Recognition and Scholarships Committee encourages everyone to nominate colleagues for a Staff Excellence Award by today.
There has been an increase in email gift-card scams involving staff and faculty members. Protect yourself and your co-workers by learning how to spot these scams.
Start planning how you'll celebrate Homecoming 2021 by registering today for the annual Roadrunners 5K, the Women of MSU Denver Panel and Networking Event and What the Eyes Don't See, a virtual fireside chat featuring Mona Hanna-Attisha, M.D., and President Davidson.
TEDxMSUDenver is returning Sept. 10 from 10 a.m. to 3:30 p.m. Learn more and reserve your ticket today. MSU Denver students and members of faculty and staff can attend for free.
And finally, celebrate a new semester by joining your fellow Roadrunners for the Faculty/Staff Mixer on Thursday, Aug. 19, from 3:30-5 p.m., on the Jordan Student Success Building lawn. Catch up with colleagues over drinks and appetizers, enjoy live music courtesy of our talented students and snag some swag!
Keep an eye on the Early Bird for upcoming details about next month's Staff Senate meeting Sept. 14 from 10-11 a.m.
Topics: Events, Inclusive leadership, Staff Senate
Edit this page