Early Bird
Responding to new public-health orders
COO Larry Sampler addresses how MSU Denver is complying with Denver's guidance in biweekly Early Bird series.
September 30, 2020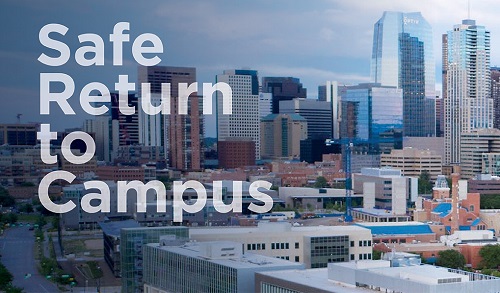 To all MSU Denver students, faculty and staff,
On Sept. 24, the Denver Department of Public Health and Environment issued public-health orders specific to institutions of higher education that I want to share with each of you. These new orders were in response to an escalating number of positive cases of COVID-19 within higher-education settings. However, it is important to note that Metropolitan State University of Denver and the Auraria Campus have not seen a dramatic rise in reported cases.
Our institution's success to date is likely due to the health and safety measures that MSU Denver and the Auraria Campus implemented for the fall semester. As you will see below, the new public-health orders coincide very closely with the University's existing health and safety protocols and do not represent a major shift in our primary policies. The main takeaway is that the DDPHE is now implementing enforcement measures to limit noncompliance. Below are two associated paragraphs from the orders that I want to share so that everyone is fully aware of the implications.
Pursuant to section 24-24 of the Denver Revised Municipal Code, it is unlawful for any person to fail to comply with this Order. Any person who fails to comply with this Order may also be subject to a civil penalty of up to nine hundred ninety-nine dollars ($999.00) per violation. Enforcement actions are intended to be cumulative in nature and Denver may pursue one or more civil, criminal, and administrative actions, fees, fines, sentences, penalties, judgments, and remedies and may do so simultaneously or in succession.
It is DDPHE's intent to work in collaboration with institutes of higher education to help reduce the spread of COVID-19. If these measures do not help reduce the spread, additional measures, including but not limited to, imposing quarantine and isolation orders, requiring virtual classes, and imposing a Stay at Home Order may be considered by DDPHE.
MSU Denver is supportive of the DDPHE's new public-health orders and is working daily in collaboration with the department to ensure the health and safety of our campus community. Together, our goal is to build on our recent success of limiting the spread of COVID-19 on the Auraria Campus so that our educational mission can continue to flourish.
Below is a summary of the aforementioned public-health orders. I have included a brief statement indicating how MSU Denver complies with each.
Order 1: Required Health Screenings
All students, faculty and staff are required to perform a daily health screening prior to coming to campus. This screening includes each of the recommended symptom checks. Constituents answering any of the health-screening questions in the affirmative are to refrain from coming to campus and are to immediately call the Health Center at Auraria at 303-615-9999. Upon calling the Health Center, constituents are evaluated over the phone by a medical provider who determines the best course of action, often including COVID-19 testing either at the center's main location or at its drive-thru location on campus. The Health Center at Auraria provides campus-clearance letters when an individual has been medically cleared to return to campus.
Order 2: Notification of DDPHE Within 24 Hours of Confirmed Positive Cases
The Health Center at Auraria routinely submits required State of Colorado reporting forms within 24 hours when a positive COVID-19 test result is determined. In addition, the Health Center is working in collaboration with the DDPHE, completing line-list and contact-list information (within 24 hours) related to each positive case that is identified for any MSU Denver constituent.
Order 3: Compliance With Face Covering Order
This has been and continues to be standard campus policy for all students, faculty, staff and visitors.
Order 4: Athletics Face Covering Requirements
MSU Denver's Athletics Department has trained its personnel about the new requirements for Athletics to ensure compliance. The order requires wearing a mask in a variety of athletic settings that previously had not been fully specified.
Order 5: Cease Team Activities Upon Notification of One Positive COVID-19 Case
Athletics Department personnel have been trained on this new requirement, which states that one positive case of COVID-19 identified within a team will result in team activities ceasing until an investigation can be conducted.
Order 6: Restrict Visitor Access to On-Campus Housing
N/A – MSU Denver does not own or operate any on-campus housing units.
Order 7: Institutional Response for Constituent's Failure to Comply
Contingent on the status of the person in violation, MSU Denver has two channels to deal with noncompliance. For students, the Student Code of Conduct applies, and compliance is overseen by the Dean of Students Office. For faculty and staff, the Department of Human Resources would address noncompliance.
Order 8: Suspension of Non-Essential Activities
MSU Denver has eliminated all non-essential activities. Additionally, an administrative process has been established for reviewing any requests for proposed on-campus gatherings of any size. Current state and city parameters are utilized during the evaluation process. We also have a request process to approve faculty and staff members who seek recurring access to campus.
It is essential that our students, faculty and staff adhere to the public-health orders as outlined. This includes not congregating in groups of 10 or more, which in many cases means that large social gatherings are off-limits due to the associated high risk.
I ask that all Roadrunners work with us to ensure that MSU Denver's proactive health and safety response continues successfully, as we attempt to contain and limit the spread of COVID-19. With the recent uptick of cases in Colorado and as we enter flu season, we ask that our community be extra vigilant in following best practices to stay healthy.
Thank you in advance for representing our institution so well. I am extremely proud of our Roadrunner family.
Sincerely,
Larry Sampler
Vice president for Administration and Finance and chief operating officer
Topics: Community, Health, Safety
Edit this page