Early Bird
Stories from the Student Emergency Retention Fund
Donations are helping Roadrunners maintain housing and persist in their studies.
September 3, 2020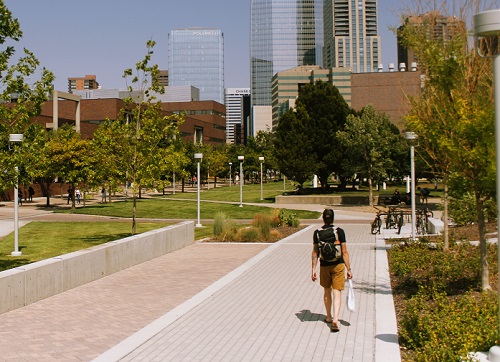 Even before COVID-19 rocked the Colorado economy and the lives of many Metropolitan State University of Denver students, the Student Emergency Retention Fund was a vital resource for Roadrunners in need.
The Student Care Center team, which manages the fund, and hundreds of donors have helped make a profound impact on students' ability to persist to graduation. Between Aug. 1, 2019, and this past Aug. 1, the SERF disbursed much-needed financial assistance to 283 Roadrunners, totaling $232,870. The average amount of support was nearly $800. Students often requested funds to cover costs related to child care, medical care, utilities, car repairs or education-related expenses. However, the overwhelming majority of students seek SERF funds for housing support and eviction prevention.
Numerous students have avoided loss of housing thanks to SERF donors. The Student Care Center has the difficult task of reviewing each request and directing funds where they are most needed. While not every SERF request can be funded, the fund has helped many students maintain safety and stability, allowing them to remain on track for degree completion.
Here are just a few of their stories:
An international student sought SERF support during the COVID-19 pandemic when a lost job opportunity led to lost housing. The student worked with a case manager to identify a new housing option and on-campus employment that would assist them in paying rent. Support from the SERF provided the deposit and first month's rent on the student's new housing, allowing the grateful Roadrunner to stay enrolled and maintain visa requirements.
Another SERF recipient was living in their car after their landlord terminated the student's lease contract to sell the rental property. The immunocompromised Roadrunner found safe housing thanks to deposit and rental assistance from the SERF. Regaining stability allowed the student, who was already working two jobs, to find safer virtual employment through the pandemic.
A student and single mother of four who was working three restaurant jobs prior to COVID-19 also benefited from SERF rental assistance. After she lost all of her employment following pandemic-related business closures, SERF funding bridged the gap while she awaited unemployment support. It also allowed her children to successfully complete their virtual schooling, and the outstandingly driven Roadrunner was able to focus on completing her finals. She received straight A's for the spring semester.
SERF support helped another international student and former human-trafficking victim, who was not able to work off campus due to visa restrictions. The funding helped the student access safe housing, complete their studies and continue receiving case management through the Student Care Center while working with community organizations on a long-term plan.
Unexpected car repairs made it impossible for another Roadrunner, a single parent, to cover rent. The SERF saved the student and her child from homelessness and allowed her to complete the spring semester. "I can't even begin to adequately express my gratitude for this incredible generosity," she told Student Care Center staff. "You are saving our lives!"
To donate to the Student Emergency Retention Fund, refer a student in need or learn more about services, please visit the Student Care Center website.
Topics: Access, CADRE, Community, Excellence, Funding, Retention, Student Success
Edit this page