Early Bird
Radically reimagining the work of education
Castro Visiting Professor Angela Valenzuela, Ph.D., to speak on the difference between education and schooling Oct. 7-8.
September 29, 2020

Metropolitan State University of Denver named Angela Valenzuela, Ph.D., as the 2020 Richard T. Castro Distinguished Visiting Professor. Valenzuela, an accomplished academic and a professor within the Department of Educational Leadership and Policy at the University of Texas at Austin, says she's lucky she got to attend college at all.
"I remember my dad telling me one day when I was in high school that I could go to college because LBJ (President Lyndon Johnson) established affirmative action," Valenzuela said. "For me, the main achievement when I was young was deciding to go to college. I remember that one statement impacting me profoundly."
Today, it's Valenzuela who is making an impact on education. In addition to her role as an educator, Valenzuela directs the Texas Center for Education Policy, the arm of UT that develops, researches, analyzes and implements education policies. She's also the author of three highly acclaimed books on educating Latino/a youth and was recently appointed to serve as an education-policy advisor on the 2020 transition team of presidential candidate Joe Biden and his running mate, Kamala Harris.
"It's important because communities tend to lack a sense of ownership over public education," she said. "We need to strengthen that sense of ownership. After all, we all pay taxes that go into public education, yet we … often act as clients or consumers rather than as empowered voices invested in the process and outcomes. This needs to change."
Valenzuela also sees a stark difference between education and schooling, a theme she will reflect on in her virtual visit Oct. 7-8.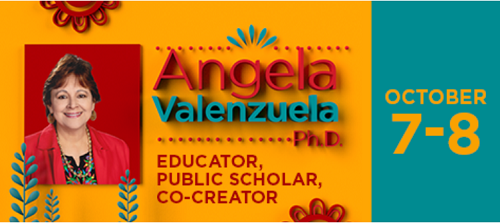 "Education is the stuff of teaching and learning. Schooling is how children and youth are treated," she said. "I am concerned about the neoliberal agenda that directs them toward inferior schooling in the form of charters, which is well-documented in Texas. They will be most hurt from the neoliberal retreat from public education, which is what is playing out with a ferociousness right now across our state and nation."
She added that integrating sociocultural perspectives and ethnic studies into education allows students to see themselves and their experiences in the curriculum, helping them to cultivate their own power. These ideas, and the idea of community, keep her optimistic about the future of Latina/o culture.
"It is our community itself that inspires the most hope," Valenzuela said. "They are survivors, and they model strength, tenacity, honesty, hard work, generosity, ingenuity, a communitarian ethos and perseverance. It's hard not to fall in love with our community."
With regard to the Latino community, she also notes that "a loss of public education for a community that is demographically ascendant is a loss of democracy."
In response, Valenzuela encourages everyone to support ethnic studies and to involve themselves in curriculum battles.
"After all, curriculum is the reproduction of consciousness," she said, "and too many years of high-stakes testing has reduced our sense of what is possible in our nation's classrooms."
To learn more about Valenzuela's philosophy of reclaiming schools and radically reimaging the work of education, visit the Richard T. Castro Distinguished Visiting Professorship webpage and RSVP for the virtual events:
Oct. 7
5-7:30 p.m.
Professional-development session: Recentering the Identity, Knowledge and Literacies of Latinx Youth
Oct, 8
11 a.m.-12:30 p.m.
Welcome and Keynote Address
5-7 p.m.
Community Discussion: Reclaiming schooling through the transformational work of ethnic studies
7-8 p.m.
Closing Virtual Happy Hour
For further questions, please contact the Department of Chicana/o Studies at 303-615-0711.
Topics: Community, Events, Excellence
Edit this page