Early Bird
MLK Peace Award nominations now open
Celebrate Roadrunners and community members who exemplify the ideals of the Rev. Martin Luther King Jr.
September 22, 2020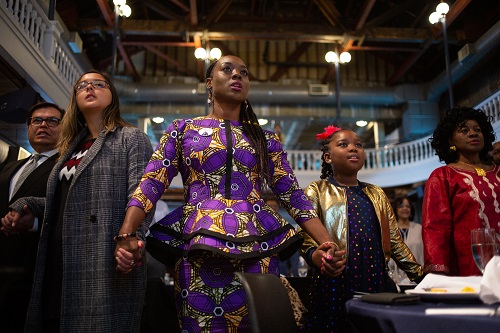 Do you know a person who is dedicated to peace, justice, compassion and community activism? Please nominate them for a 2021 MLK Peace Award by Oct. 30. The annual award recognizes local leaders who are committed to promoting the Rev. Martin Luther King Jr.'s vision for civil rights and social change.
For 30 years, the campus community has come together each January to celebrate King's life, legacy and ideals. The highlight of the gathering is an awards ceremony that acknowledges and celebrates individuals who keep King's spirit and dream alive through their contributions to peace, justice, diversity, equality and social change.
This year, the nation has confronted a global pandemic and mourned the deaths of unarmed Black Americans at the hands of police. These events triggered a renewed movement of protests against systemic racial injustice and inspired the 2021 MLK Peace Award theme: Know Justice, Know Peace.
The theme centers on raising awareness about racial injustice as well as the need for immediate, radical change. To know justice is to know peace. Without evidence of change, no justice, no peace will endure. As King said, "Injustice anywhere is a threat to justice everywhere."
In as many words as necessary, please describe the nominee's commitment to promoting peace, justice and compassion for all people through community involvement. The more detail you provide, the more we can understand how extraordinary the nominee is. In your own words, please address at least one of the three themes of the award: Community Activism, Advocacy, and Equity and Inclusion. Nominations must explain the nominee's involvement and the impact their work has had.
Nominations are due Oct. 30.
Topics: Community, Diversity, Events, Excellence, Inclusion, MLK Peace Award
Edit this page