Early Bird
Socktober is back!
Warm your toes this winter with a gift supporting students in need.
September 21, 2020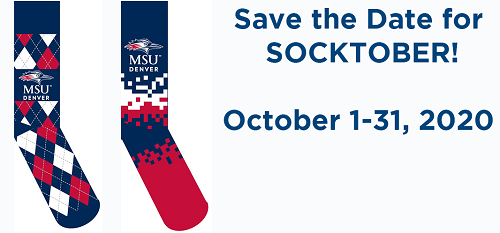 When a chill permeates the air and leaves begin to fall, we know Socktober is right around the corner.
During last year's inaugural Socktober giving event, our generous Roadrunner family contributed over $14,000 to the Student Emergency Fund and donated 460 pairs of socks to students in need. This year, we have the opportunity to build upon our success and continue providing Roadrunners with the support they need during difficult times.
During the month of Socktober – Oct. 1-31 – for every gift of $25 ($15 is tax-deductible) you make to the Student Emergency Fund, Dreamer Emergency Fund or Roadrunner Food Pantry, you will receive one pair of limited-edition Metropolitan State University of Denver socks and another pair will be donated to a student in need.
This Socktober, there are two exclusive MSU Denver designs to choose from to show your Roadrunner pride from head to toe. If you missed out on last year's inaugural socks, a limited number are still available.
A small act of kindness can have a significant impact on the life of an MSU Denver student. Share a pair of socks when Socktober goes live Oct. 1 during Week of Caring and warm the feet of fellow Roadrunners so they can continue to Run With Us!
For more information about supporting the Student or Dreamer Emergency Fund, contact Bre Milnes, director of annual giving. To learn more about the Student or Dreamer Emergency Fund and the Roadrunner Food Pantry, contact the MSU Denver CARE Team.
Topics: Advancement, Alumni, Community, Events, Excellence, Funding, Student Success
Edit this page