Early Bird
Fall Welcome Back recap
President Davidson shares State of the University address, answers employee questions on budget, spring 2021 planning, anti-racism efforts and more.
September 21, 2020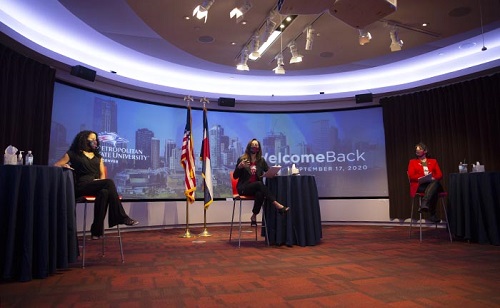 Sporting a Metropolitan State University of Denver face mask, President Janine Davidson, Ph.D., delivered a State of the University address and answered employee questions at the Fall Welcome Back event on Sept. 17. Joined by Faculty Senate President Katia Campbell, Ph.D., and Staff Senate President Rebecca Reid in the Center for Advanced Visualization and Experiential Analysis, Davidson began the virtual event by celebrating Roadrunner spirit and resiliency.
"If there is a theme for today, it's how much gratitude I have for how much work everybody has done and how much optimism I have for the future," Davidson said.
State of the University
In her livestreamed address, Davidson reflected on comments from Gen. Jim Mattis who said in times of crisis, "doubt your doubts, not your values."
"Despite (recent) difficulties, that's what we've done," Davidson said. "We've stuck to our three core principles in every decision that we've made. We've put students first, and we've focused on inclusive leadership and on unity of effort."
Davidson commended hard work from across the University community to shift to online learning and thanked employees for sharing creative budget ideas. She applauded faculty and staff for their flexibility, adaptability and ongoing commitment to excellence, equity and inclusion. She also praised cross-functional efforts to address the pandemic that are keeping our community safe.
To celebrate the invaluable contributions of faculty, staff and student employees, Davidson announced Roadrunner of the Week, a new initiative that will highlight amazing work happening across campus. Stay tuned to the Early Bird for more details.
As a proof point of excellence, Davidson also cited the University's new Economic Impact Report, which shows that MSU Denver generated more than $700 million in total economic impact last year. The University also supports more than 7,250 jobs and generates over $35.5 million in state and local taxes. Additionally, Roadrunners give back to the tune of $6.5 million in donations and volunteer hours annually.
"MSU Denver, as an anchor institution, has such a huge impact in the state," Davidson said.
Answering your questions
In addressing employee-submitted questions, Davidson shared updates on the University's budget, legislative funding cuts and fall enrollment numbers as well as explaining the decision to increase tuition for spring 2021. She highlighted a number of inclusive efforts to address this year's budget shortfall and encouraged the community to get involved in the process by attending Budget Recommendation Committee meetings.
One of employees' most-asked questions was related to planning for the spring semester, specifically how classes will be delivered, if more employees will return to campus and when a decision will be made.
"It's clear that the virus and the protocols from the state are going to be similar (to the fall semester)," Davidson said. "We have to also remember that this isn't just up to the University. We're going to have to remain flexible."
MSU Denver will apply lessons learned during the fall semester to spring-semester operations to better deliver online classes, while also aiming to safely return more classes to campus. More information on the spring semester will be available by mid-October.
The campus leaders also discussed concrete steps taken with regard to the University's commitment to anti-racism work. Davidson noted the need for authenticity and self-reflection to ensure the University's words align with its actions and values. She applauded steps taken by the Board of Trustees and Faculty Senate and noted the work of the Diversity, Equity and Inclusion Committee and the Dialogues series on race.
Davidson added that addressing racial and social injustice and issues like political polarization requires a deep understanding of social dynamics, history, philosophy and other subjects within the humanities that serve as pillars of a liberal arts education.
"We believe that these kinds of programs are fundamental," Campbell added. "A better understanding of history, of diversity studies, can help us better understand one another and the systems of oppression."
Reid, who is also an alumna, noted that her MSU Denver liberal arts education has enriched her professional career as well as her personal life. "It's so important for us as a community and as members of a democracy to have this ability to think critically," she said.
Davidson also shared updates on the ongoing provost search as well as searches for two dean positions (which will begin in late October), encouraging Roadrunners to recommend candidates from within their professional networks. Employees who recommend a final-round candidate for any of the three positions will receive $250 for their contribution. More details will be available in the Early Bird soon.
Davidson also addressed the importance of legislative advocacy and employee wellness, and much more. See the full event in the video embedded above.
Legislators of the year
As is tradition at the Welcome Back event, Davidson honored state legislators who have been champions for MSU Denver. She recognized Sen. Jeff Bridges and Rep. Mark Baisley as Legislators of the Year. The award recognizes members of the legislative community whose values and work align with the University's commitment to advancing the lives of students and the State of Colorado.
Topics: President Davidson, Welcome Back
Edit this page