Early Bird
Homecoming 2020: Roadrunners Rise
Join the MSU Denver community Sept. 28-Oct. 3 to celebrate what it means to be a Roadrunner.
September 21, 2020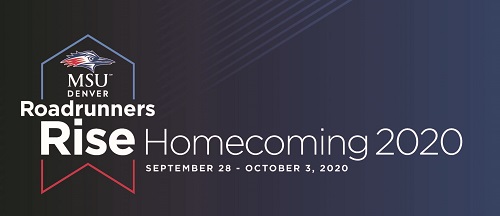 During the COVID-19 pandemic, one thing stands out above all others: Roadrunners take care of Roadrunners. Whether we're mentoring students, providing critical financial support, standing up against injustice in local communities or working on the front lines as an essential worker, Roadrunner generosity knows no bounds.
Time and time again, Roadrunners Rise.
In recognition of our Roadrunner spirit, the week of Homecoming – from Sept. 28-Oct. 3 – will focus on the ways members of the Metropolitan State University of Denver community have risen to meet the challenge of a pandemic, an economic crisis and civil unrest. Each day of the week will focus on a different theme – such as the importance of community service or social justice – with virtual events, speakers and ways to show how much you care.
We want to celebrate your spirit of caring during Homecoming! Share your stories of caring with us to inspire your Roadrunner family to take action in their own communities.
Homecoming has always been a weeklong celebration of MSU Denver, and this year is no different. We may not be on campus together, but we can still celebrate what it means to be a Roadrunner.
In the face of adversity, Roadrunners Rise.
For more information about Homecoming 2020: Roadrunners Rise, contact Brandi Rideout, director of alumni relations.
Topics: Advancement, Alumni, Community, Events, Excellence, Homecoming, Save the date
Edit this page