Early Bird
Importance of displaying your ID on campus
For safety reasons, MSU Denver asks the limited number of Roadrunners on campus for the fall semester to keep their institutional photo ID visible.
September 2, 2020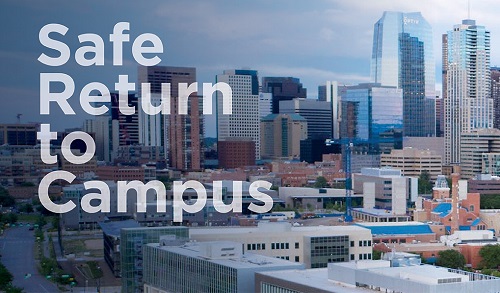 In an effort to further bolster campus safety for students, faculty and staff, Metropolitan State University of Denver is asking all Roadrunners to have their official institutional ID visibly displayed at all times while on campus for the fall semester.
"To keep our community healthy and safe, we are trying to limit the number of people who access our buildings," said Leone Dick, chief of staff to the vice president for Administration and leader of the Roadrunners Safe Return Committee. "All members of the Auraria Campus community are being asked to display ID badges so school officials and security can know at a glance if someone is where they should be."
Dick noted that this is particularly important as the Ambassadors Program wrapped up its work last week. The volunteer ambassadors greeted people at building entrances for the first two weeks of on-campus classes. The Crew in Blue will still be staffing the front desk in the Jordan Student Success Building throughout the fall semester, but other buildings will not have greeters.
If you do not have a campus photo ID, you can get one at the bookstore's ID station, which is open Monday to Thursday, 8 a.m. to 4:30 p.m., and Friday, 8 a.m. to 3 p.m. Alternately, you can call 303-556-8352 to set up an appointment.
For safety concerns on campus, please do not hesitate to reach out to the Auraria Campus Police Department by dispatch phone at 303-556-5000 or through the Text-a-Tip line at 720-593-TIPS (8477).
Please continue to check the Roadrunners Safe Return webpage for the latest updates.
Topics: Access, Health, Safety
Edit this page