Early Bird
Deep impact
A preview of the University's new Economic Impact Report and the catalytic effect of Colorado's best value in education.
September 16, 2020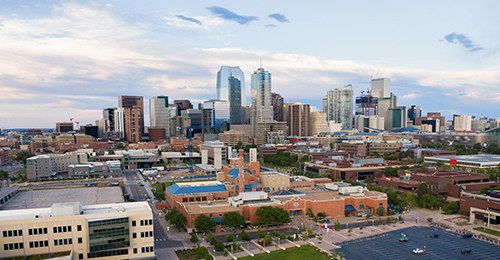 We all know Metropolitan State University of Denver has helped transform Colorado for 55 years – and we've got the data to prove it.
As an Anchor Institution in the state's capitol city, MSU Denver is a vital hub for educating well-rounded global citizens to meet the workforce needs of tomorrow. The University's new Economic Impact Report and this accompanying infographic detail exactly how far Roadrunners have spread their wings and influence across the state (and beyond). We'll be releasing the full report to the broader Colorado community tomorrow.
A few of the many highlights include:
A total FY19 economic impact of $703.4 million. This consists of $362.1 million in operational spending, $286.3 million in student spending, and $55 million from visitors.
In FY19, MSU Denver contributed an estimated $35.5 million in local and statewide taxes, through local spending as well as direct and indirect support of jobs.
The University creates a total of 7,250 full- and part-time jobs throughout the state.
MSU Denver's impact goes beyond the numbers, too. Tune in to hear President Davidson share more about the University's present and future during tomorrow's Fall 2020 Welcome Back at 10 a.m. on the MSU Denver livestream page.
Topics: Advancement, Alumni, Athletics, Community, Denver, President Davidson
Edit this page