Early Bird
Join in the Roadrunner Rally
The fun 10-week health challenge is free for students, faculty and staff.
September 10, 2020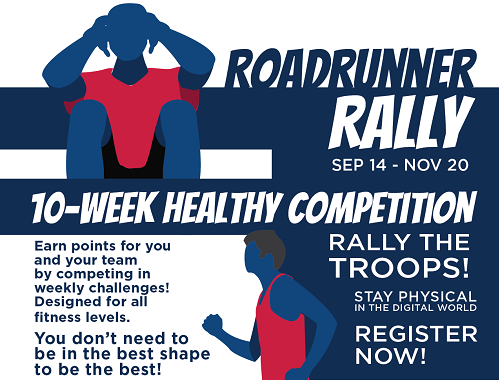 Don't let this virtual world get you stagnant. Stay active and motivated by getting involved in Roadrunner Rally, a 10-week health challenge that's free for students, faculty and staff. Participants can join at any point in the challenge; however, the more weeks you participate, the more points you earn for your team. The challenge offers weekly workouts and exercises to help participants earn points and prizes.
Points are earned by participating in virtual 30-minute exercise classes led by Campus Recreation's ACE-certified group-fitness instructor, Chastity Kracht. Participants can attend Power Barre on Tuesdays at 11:30 a.m. and/or High Intensity Interval Training on Thursdays at 8 a.m. Each class earns a participant 40 points. Can't make the live session? Participate in a class at a more convenient time via Campus Recreation's YouTube Channel for 35 points.
In addition to fitness classes, each week will feature a classic exercise, such as jumping jacks or sit-ups. Participants will earn one point for each minute of completion. Just keep track throughout the week and report your total the following week.
All Roadrunners are automatically entered for the individual leaderboard, but to add to the healthy competition, each student can put their points toward a student organization, group or team to which they belong. Faculty and staff points will go toward their respective senates. Prizes are offered throughout and to challenge leaders.
The competition runs through Nov. 20. Register today.
For more info, visit the Campus Recreation website and click on the Roadrunner Rally tab or email Diane Yee, director, Campus Recreation.
Topics: Events, Health
Edit this page