Early Bird
Provost search update
Meet the search-committee members and learn more about the selection timeline.
September 1, 2020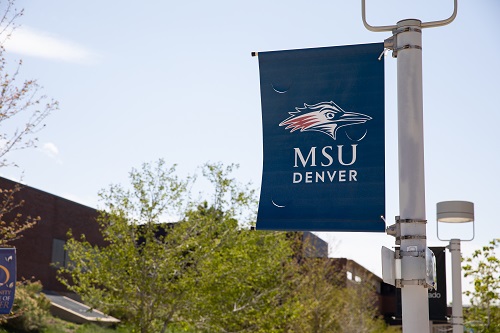 Metropolitan State University of Denver is progressing in its search for a new provost after suspending the effort at the outset of the COVID-19 pandemic. In addition to solidifying the revised job description, the University has confirmed new search-committee members and a hiring timeline.
Greg Clifton, J.D., associate professor and chair of the Department of Accounting, will chair the search committee, which includes:
Michael Benitez, Ph.D., vice president for Diversity and Inclusion
Terry Bower, Ph.D., associate vice president of Innovative and Lifelong Learning
Caleb Cohoe, Ph.D., associate professor, Philosophy
Barb Grogan, trustee, founder of Western Industrial Contractors
Deborah Horan, Ph.D., professor, Elementary Education
Henry Jackson Jr., Ph.D., chair, Criminal Justice and Criminology
Chalane Lechuga, Ph.D., associate professor, Chicana/o Studies
Cathy Lucas, vice president of Strategy and External Affairs
Ann Murphy, Ph.D., dean, College of Business
Jess Retrum, Ph.D., Chair, Social Work
Mary Sauceda, associate vice president of Enrollment Management
Members met virtually last week to discuss the search process, strategy, timeline and advertising. A position profile and advertisement should be completed by early September, and the position will be posted in publications such as the Chronicle of Higher Education, Hispanic Outlook, Diverse Issues in Higher Education, Women in Higher Education, Journal of Blacks in Higher Education, Inside Higher Education and others.
Search firm Storbeck/Pimentel & Associates expects to complete the initial candidate-recruitment and nomination-solicitation processes by early October, followed by preliminary candidate screening, interviews and ongoing recruitment. The goal is to identify eight to 10 semifinalist candidates by the end of October, with first-round interviews beginning in early November. The campus community will have opportunities to provide feedback on finalists in late November. The committee aims to fill the position by the end of January.
Stay tuned to the Early Bird for more information and updates as the search progresses. See the updated job description msudenverjobs.com.
Topics: Academics, Hiring, Human Resources, Inclusive leadership
Edit this page