Early Bird
On the CAESS: census date and supporting students early in the semester
Dispatches from the Advisory Council on Academic Excellence and Student Success.
August 26, 2020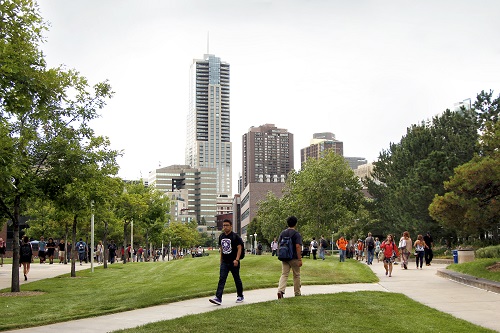 The words that Metropolitan State University of Denver faculty and staff use to explain enrollment deadlines can be encouraging or discouraging to students – for example, "census."
We sometimes frame census date (Sept. 2 for full-semester courses) as a course-drop deadline that allows students to avoid a "Withdraw" on their transcript and receive a tuition refund. For students whose circumstances require them to drop classes, it's important to recognize this deadline. However, this framing might impede academic progress for students whose life circumstances this semester don't preclude school.
Instead of thinking about census exclusively as a drop date, we can reframe our attitudes regarding the approach of the census date as a time when we need to be especially supportive. Ensuring that our students are set up for success will increase their ability to feel they can make a commitment to school this semester.
How can we do this? First, keep in mind that the last day students could register for full-semester classes was Sunday, so some students may need a little longer to acquire course materials such as textbooks. If possible, try to be flexible with due dates to give everyone the opportunity to get up to speed and off to a successful start.
Second, check to see if students have logged in to Canvas for your online course. Remember that it may take students a little longer to acclimate to the new online environment. Consider reaching out with an email or an offer to chat about concerns with navigating the system.
Third, help students see the path toward course completion. Reach out to students. Make sure they know exactly what the coming months look like in terms of your syllabus, assignments and expectations. Removing some of the fogginess regarding the future may reassure students that they can handle what's coming.
The President's Council on Academic Exellence and Student Success will provide additional insights throughout the fall semester on how to set up students for success and promote retention. Please contact CAESS co-chairs Kristy Lyons, Ph.D., and Sean Petranovich, Ph.D., if you have additional suggestions for promoting student retention early in the semester.
Topics: Academics, Advisory Council, Student Success
Edit this page