Early Bird
Political Science grows enrollment through engagement
The department has stayed busy this summer by building community and launching important conversations.
August 25, 2020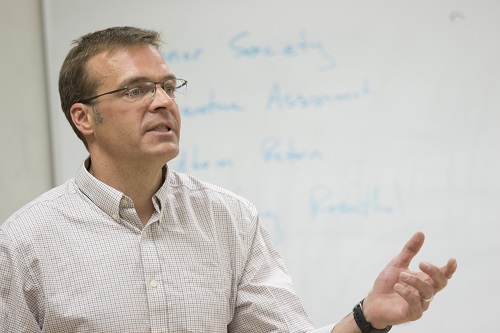 Metropolitan State University of Denver Roadrunners are tenacious, and that quality extends from students through faculty, staff and leadership. The COVID-19 pandemic has presented unexpected challenges and inspired the University community to step up in new and innovative ways to continue serving the MSU Denver mission.
Remain present and accessible
The Department of Political Science, for example, is a model of enrollment success. The department has concentrated its efforts on driving enrollment by providing consistent and regular communications to current and newly admitted students. This simple strategy helps students establish or maintain connections and learning communities, access valuable resources and learn about academic and programmatic opportunities within the department.
Create conversations
Political Science faculty also have maintained the department's focus on starting and driving important conversations. Throughout the campus closure, the Golda Meir Center for Political Leadership held a virtual speaker series, which brought students, academics, members of Congress and alumni together to learn about and discuss policy response to pandemics, the effect of the pandemic on the Latinx community and perspectives on law school. The department also continued communication through regular letters from the chair and academic advisor informing students of lecture opportunities and internships.
Recruit and retain
Faculty members further collaborated with the Center for Multicultural Engagement and Inclusion to reach out to underrepresented groups. This helped expose students who might not have considered Political Science to the discipline.
To honor graduating Roadrunners, the department also developed a celebratory video packed with tributes and best wishes from faculty. The video gave students not only a heartfelt send-off but a sharable asset and an invitation to remain engaged as newly minted alumni.
These efforts to stay connected and build two-way conversations have helped increase department enrollment by 5% as of the first week of classes.
"In short, our success was based not only on outreach aimed specifically at enrollment but engaging students in the discipline," said Rob Preuhs, Ph.D., professor and chair, Political Science. "We believe that while the resources provided to students are essential, the fundamental appeal of higher education is to expand minds and provide knowledge that is foundational to student success after college."
Is your department finding new and innovative ways to reach students and drive enrollment? Share your ideas and success stories by emailing earlybirdeditor@msudenver.edu.
Topics: Academics, Best practices, Enrollment, Retention, Student Success
Edit this page