Early Bird
Faculty Senate update
Budgetary updates, academic adjustments and a welcome back from President Davidson at the first virtual assemblage of the semester.
August 24, 2020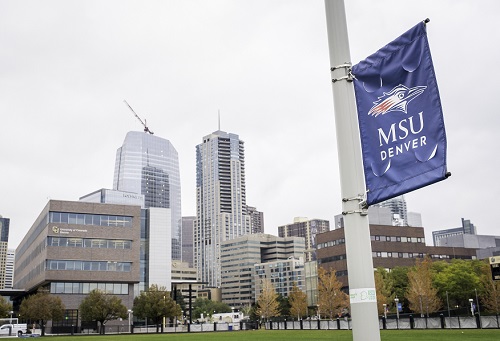 The first virtual Metropolitan State University of Denver Faculty Senate meeting of the 2020-21 academic year started off with a moment of silence to honor the passing of several current and previous MSU Denver academic leaders: Wilton Flemon, Ph.D. (chemistry), Amy Eckert, Ph.D. (political science), Joan M.C. Foster, Ph.D. (former dean, College of Letters, Arts and Sciences; former interim provost) and Donald Wall, Ph.D. (former history professor).
Faculty Senate President Katia Campbell, Ph.D. (communication studies), also acknowledged the exhaustion and resilience of the MSU Denver faculty members dealing with migration into a new learning-management system during times of crisis before welcoming University President Janine Davidson, Ph.D., to address the group.
"Thank you, thank you, thank you for all the work you do in these difficult times," Davidson said. "What defines the crisis for us is economic in nature – we're taking a big hit, but that shouldn't damage other part of our organization, our brand and relationships with each other.
"Despite the fact that things kind of stink right now, I think we're going to come out of this even stronger."
She further detailed how the decision to prioritize student safety and support early on is setting up MSU Denver's model of higher-education delivery as the right one for a postpandemic environment.
Campbell reiterated the ongoing collaborative efforts necessary to ensure this future student-centered success.
"Decisions aren't made lightly; we're not always going to agree on things, and that's OK, but we find answers when we engage in dialogue, and that takes work," she said.
George Middlemist, Ph.D., associate vice president for Administration/CFO, also stopped by to provide a Phase II Budget Update for fiscal 2021. Attempts to address the anticipated $14 million shortfall include reduction in base reserves, the previously announced personnel changes (voluntary/mandatory furloughs, limited layoffs and vacant-line eliminations) and reduction of non-operating expenses. One-time CARES funding of $7.2 million has resulted in $5.7 million being directly distributed as aid to students, with $1.4 million remaining to be as well. He noted the expectation of further state cuts, while remaining hopeful for further federal aid and upward-trending enrollment.
Middlemist also updated the Senate on the efforts to examine/update the current use of CUPA averages to be more equitable and competitive; the new structure is slated to roll out by year's end.
Bill Henry, Ph.D., interim provost and executive vice president of Academic Affairs, stopped by to discuss an anticipated slight increase in class size. "Not a blanket statement for all classes" and "not antithetical to delivering the world-class education laid out in our mission," he said.
Henry also discussed the decision to "pause" RTP/PTR procedures, the impact of suspended sabbaticals and scaling back of multiyear contracts to Category II faculty, noting that those coming up for tenure review should ensure that they are working with their chairs and have COVID-19-impact documentation in their portfolio.
"These were incredibly hard decisions made relatively early on. … The intention is to return to full support for sabbaticals as quickly as possible … and as soon as we can, return to implementing ways to recognize and reward contributions of our Cat 2 faculty," he said.
Chalane Lechuga, Ph.D., (Chicana/o Studies) led the first reading of the Faculty Senate's Resolution to Ensure a Diverse Faculty at MSU Denver; in the wake of the Board of Trustees' June 16 commitment to engaging in anti-racism work, the resolution takes steps to assess and broaden what is tracked as diversity measures to ensure that the institution is not losing ground, Lechuga said.
Further discussion and a second read will take place at the next Faculty Senate assembly. Those with feedback should contact Lechuga or Liz Goodnick, Ph.D., ahead of the meeting.
Other items of business included:
Larry Sampler, vice president for Administration/COO, as a guest of the Senate provided a brief overview of how MSU Denver is looking at possible adaptation of classroom architecture to safely accommodate larger classes, emphasizing it is purely structural and not driving pedagogy at all.
Campbell thanked the work of the Summer 2020 Ad Hoc Executive Committee Small Working Group; the group advocated for the faculty by recommending voluntary furloughs and early-retirement options upfront to help mitigate budgetary shortfalls, eventually adopted by the University. "First and foremost were faculty needs in our hearts moving forward. … Our intent was to provide some avenue to negotiate with (administrative leadership) to lighten the shared workload," Campbell said.
The Budget Committee and Rules Committee need at-large representatives; those interested should email Maggie Thulson.
Campbell reinforced the macro-level awareness around students and faculty dealing with racism and racist rhetoric, along with the accompanying exhaustion, all taking place in a contentious election cycle set against the pandemic-laden backdrop. "It's likely only going to get worse; let's give each of our students and each other some grace as we deal with these very difficult times," she said.
The next Faculty Senate meeting takes place Sept. 2 at 3:20 p.m.
Topics: Faculty Senate, Inclusive leadership
Edit this page