Early Bird
Feeding our Roadrunner family
Support the Roadrunner Food Pantry with a $25 gift and receive an MSU Denver-branded mask.
August 20, 2020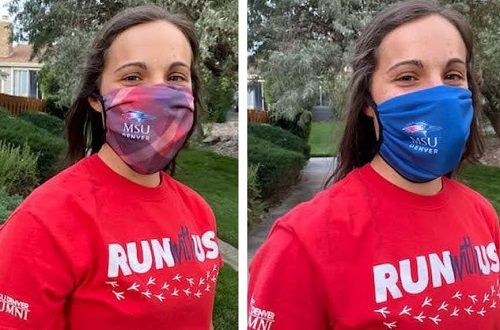 Over the past several months, the Roadrunner Food Pantry has experienced an increased need for food assistance in the face of a pandemic that has left Metropolitan State University of Denver students without weekly access to shelves of nutritious food. During the 2020 spring and summer semesters, the Student Care Center has provided over 500 students experiencing food insecurity with electronic gift cards to supplement their trips to the grocery store.
"Not only did the gift card program provide my family and I with the ability to buy food, but it also helped me get connected to the Student Care Center and other food resources available to me during remote learning." – David E., '21
To continue meeting the overwhelming demand for aid, we need the assistance of our entire Roadrunner family.
Feed a hungry Roadrunner with a gift in any amount to the Roadrunner Food Pantry. When you make a gift of $25 to the Roadrunner Food Pantry ($15 is tax-deductible), you will receive one of our exclusive, limited-edition MSU Denver-branded masks.
All gifts, in any amount, ensure that no Roadrunner goes hungry and go directly toward providing students with access to groceries while the physical Roadrunner Food Pantry remains closed.
Feeding a Roadrunner. That's possible here.
For more information about supporting the Roadrunner Food Pantry, contact Bre Milnes, director of annual giving. To learn more about the Roadrunner Food Pantry program, contact the MSU Denver CARE Team.
Topics: Advancement, Alumni, Community, Excellence, Food Pantry, Roadrunner Food Pantry, Student Success
Edit this page