Early Bird
Fall-semester enrollment outlook
While enrollment continues to lag, trends remain promising thanks to multiple outreach, recruitment and retention activities.
August 20, 2020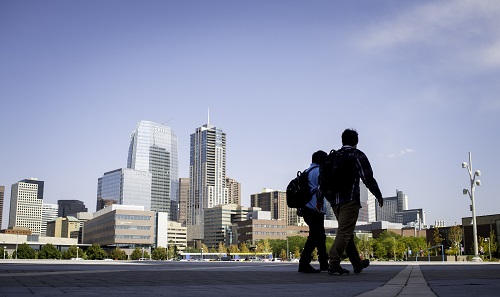 As Metropolitan State University of Denver has approached the fall semester, the enrollment outlook is coming into sharper focus. While the University will likely not meet its goal of only a 5% year-to-year enrollment decrease, it is close to that target. Trends remain promising thanks to multiple outreach, recruitment and retention activities that have taken place across the campus.
As of Wednesday, MSU Denver's overall enrollment is down 6.1% in FTES and overall head count has incresed to 18,302 students. It's important to note that while enrollment is slightly lower than hoped, there are still opportunities to continue attracting new students. While not all of these efforts will return immediate dividends, the future remains positive.
"We expect that our enrollment will see an increase in the immediate future, as early as next fall," said Mary Sauceda, associate vice president of Enrollment Management.
Opportunities
The University has offered free tuition for all students who recently graduated from Denver Public Schools and who were admitted by July 2.
The University is developing a memorandum of understanding with Johnson & Wales University to allow former JWU students to transfer to MSU Denver.
University leaders are actively collaborating with the Colorado Department of Labor to market to individuals who submitted unemployment claims.
Faculty and staff are also consulting with Colorado community colleges on pathway programs that would lead students to four-year programs at MSU Denver. For example, the Bridge to Bachelor's Degree MOU in partnership with the Colorado Community College System was just finalized in late June.
Trends and challenges
Enrollment decline has been exacerbated by the COVID-19 pandemic, which presents unique student-recruitment and -retention challenges. For example, more high school graduates report they will take a gap year to explore alternatives to higher education. Institutions across the country are also reporting a "summer melt" increase, meaning students who were previously interested in attending a specific university are no longer showing commitment to attend the institution. This has caused nationwide drops in enrollment deposits, and FAFSA renewals from lower-income students were down nearly 5% compared with last year nationally. FAFSA completions during March and April were down significantly but have since rebounded to normal levels.
Furthermore, the pandemic has taken a financial toll on many prospective students and their families. This reduces students' desire or capacity to engage in college planning. Students who are unemployed report a preference for educational options that are more affordable and offer a quick turnaround so they can hasten their return to the workforce rather than dedicate the traditional four or more years to earning an undergraduate degree.
Additionally, community colleges are experiencing declining enrollment trends.
"This is particularly alarming for our pipeline given that approximately half of our incoming students are transferring from community colleges," Sauceda said. "However, we are simultaneously strengthening our partnerships with community colleges and working on the transfer process to improve the transfer experience."
What's next
Efforts to differentiate MSU Denver by sharing our mission and providing the various educational options, resources and support to students will continue. MSU Denver remains an ideal choice for students who desire a flexible learning environment as well as a high-quality, affordable education. Calculated investments in online learning, website improvements, upskilling and gap-year experience programs, outreach and retention initiatives, marketing efforts and more will continue to amplify the value of the MSU Denver experience and an MSU Denver degree.
Topics: Enrollment, Retention, Student Enrollment Management
Edit this page