Early Bird
Join the virtual Convocation celebration
Friday's event welcomes fledgling Roadrunners to the flock and features a keynote address by Colorado Poet Laureate and alumnus Bobby LeFebre.
August 19, 2020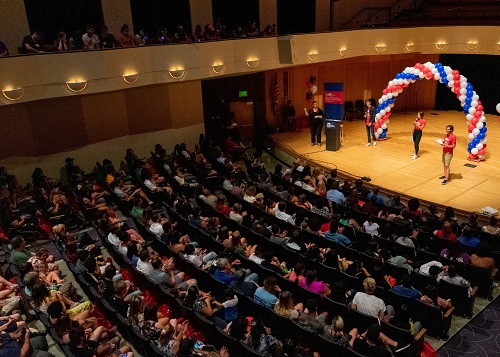 Every year, incoming Roadrunners, their families and their supporters are invited to Convocation, a ceremony that serves as the official start of their academic journey at Metropolitan State University of Denver.
All faculty, staff and administrators are encouraged to join our incoming students for a virtual Convocation ceremony Friday at 6 p.m. by visiting the Convocation website.
The Convocation ceremony will include a welcome address from President Janine Davidson, Ph.D., as well as opportunities for incoming students to win scholarships and Metropolitan State University of Denver giveaways.
Bobby LeFebre '04 – an award-winning writer, performer and cultural worker – will deliver this year's keynote address. Through his work, LeFebre imagines new realities, empowers communities, advances arts and culture and?serves as an agent of provocation, transformation, equity and social change. His work has appeared in the New York Times, the Huffington Post, the Guardian and American Theater Magazine and on NPR and Poets.Org. In 2019, LeFebre was named Colorado's eighth poet laureate, making him the youngest person, and first person of color, to be appointed to the position in its 100-year history. LeFebre holds a bachelor's degree in psychology from MSU Denver and a master's degree in art, literature and culture from the University of Denver.
This year's Convocation is spearheaded by the Center for Multicultural Engagement and Inclusion, a new department within the Center for Equity and Student Achievement. Charged with embedding equity and inclusion in student engagement activities and initiatives, the new department consists of the former Office of Student Activities and the former Center for Multicultural Excellence and Inclusion. The CMEI's footprint now spans the Tivoli and the Jordan Student Success Building as well as a new website.
The CMEI would like to thank the Athletics program for its support and expertise in bringing this year's virtual Convocation ceremony to life.
Topics: CESA, CMEI, Community, Events, Save the date, Student Success
Edit this page