Early Bird
Scholarship established in honor of former Professor Laura McCall
The fund will support students pursuing degrees in History or Gender, Women and Sexualities Studies.
August 12, 2020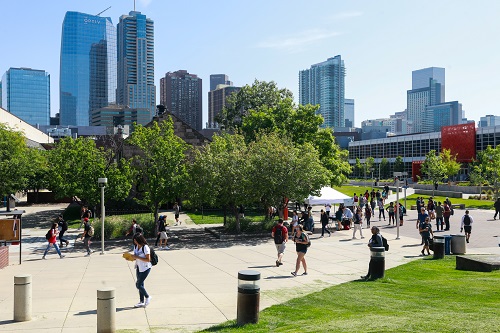 The legacy of former Metropolitan State University of Denver Professor Laura McCall, Ph.D., who died in 2017, will live on through the Laura McCall Endowed Scholarship. The scholarship, established by founding funds from McCall's estate, honors her unwavering commitment to creating opportunity through education and to the power of understanding our past – particularly the pivotal roles women have played throughout history.
The scholarship honors McCall's passion for education, activism, women's rights and the study of history's impact on modern times. Establishing donors hope to grow the fund to $100,000 to support one or two students pursuing a degree in History or Gender, Women and Sexualities Studies.
McCall enjoyed a long and distinguished career in academia. She joined the MSU Denver Department of History in 1990 after teaching at Western State College in Gunnison for eight years. She received her bachelor's degree at Northwestern University and her master's degree and doctorate at the University of Michigan, where her research focused on gender in the antebellum United States.
During her time as a Roadrunner, McCall was a prolific scholar, publishing book chapters and articles, including three in the most prestigious journal in her field, Journal of the Early Republic. She also co-edited "A Shared Experience: Women, Men and the History of Gender" (New York: New York University Press, 1999) and "Across the Great Divide: Cultures of Manhood in the American West" (New York: Routledge, 2001).
The University honored McCall with awards for outstanding teaching in 1996, research in 2001 and service in 2007. She was a tireless advocate for historic preservation in her hometown of Golden, and she showed uncommon dedication to students and sponsored the department's chapter of Phi Alpha Theta.
To learn more about the Laura McCall Endowed Scholarship, please visit the GITA Sponsored Scholarships webpage.
Topics: Academics, Funding, Student Success
Edit this page