Early Bird
Fall-semester FAQ series
Each Tuesday and Thursday, look for answers to our most-asked health and safety questions.
August 11, 2020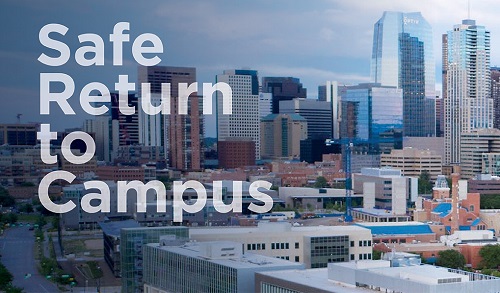 With the fall semester quickly approaching, Metropolitan State University of Denver is working diligently to ensure that faculty, staff and students who have been approved to return to campus have all the information they need to make a safe transition.
While most of the University's operations will continue remotely, MSU Denver has developed these protocols and guidelines (click here for Spanish version) for the limited number of Roadrunners who will participate in face-to-face classes or who have otherwise been approved to be on campus. The guidelines were created in accordance with recommendations from the Colorado Department of Higher Education and state and local health experts, including our team at the Health Center at Auraria and the University's Facilities Department.
Each Tuesday and Thursday, the Early Bird will highlight our most frequently asked questions about the fall semester. Follow this series through the beginning of the fall semester for the most up-to-date health and safety information.
Questions about building access and safety
If there is going to be limited entrance access to buildings, will the most accessible entrance be one that remains open?
Yes, accessibility will be considered when determining primary entrances. Please follow all signage on buildings – at entrances and exits and in common areas.
Will we be adding plexiglass or other barriers to spaces, for example, for front-desk workers?
As front desks reopen for customers, the Roadrunner Safe Return Committee will review the best approach for each space. Employees who have additional concerns or needs for a specific location should include that information in their "work unit plan" when requesting campus access.
If you have a specific concern not addressed in the FAQs, please submit your question on the Safe Return to Campus webpage.
Topics: Community, Health, Safety
Edit this page