Early Bird
Week of Caring
Join in a weeklong celebration of Roadrunners caring for Roadrunners.
August 11, 2020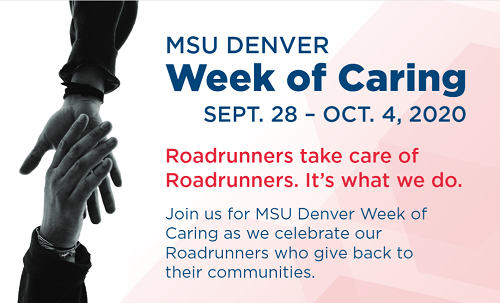 Since the beginning of the COVID-19 pandemic, Metropolitan State University of Denver has received a number of emails and calls from alumni, faculty, staff and community members asking how they can support students during this critical time. The MSU Denver community has provided mentoring, job leads, financial support through the Student Emergency Fund and more.
One thing has become abundantly clear: Having Roadrunner spirit means making a positive impact on the community.
In recognition of this generosity, the week of Sept. 28-Oct. 3 will transition from our annual Homecoming tradition to Week of Caring – a weeklong celebration dedicated to highlighting the ways Roadrunners care about each other, the campus and their respective communities.
The Week of Caring will include days focused on service, legislative advocacy, social justice and more. The week will culminate in a day of celebration, including a virtual version of the annual Alumni Awards. As we get closer to the date, keep an eye on the Early Bird for more information.
Event organizers also want to hear from you! Do you have a story of caring to share, or are you planning to host a Week of Caring event? Fill out the Week of Caring interest form to get involved.
Roadrunners caring for Roadrunners. That's possible here.
For more information about the Week of Caring, contact Brandi Rideout, director of alumni relations.
Topics: Advancement, Alumni, CADRE, Community, Events, Excellence, Save the date, Student Success
Edit this page