Early Bird
Seasonal recipes from the School of Hospitality
Two last dishes to close out National Culinary Arts Month.
July 30, 2020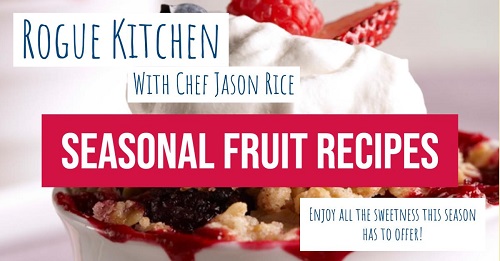 Thank you to the School of Hospitality for sharing a wealth of exciting new recipes throughout National Culinary Arts Month. The final two dishes celebrate seasonal fruits, from two very different perspectives.
If you're looking for some cooking tips and pointers, visit the School of Hospitality Facebook page to learn more and see recordings of live cooking demos. If you make these delicious dishes at home, be sure to share and comment.
SOUTHERN FRIED GREEN TOMATO CAPRESE
Servings: 6-8
INGREDIENTS
Green tomatoes
- 2 green tomatoes, cut ¼-inch thick
- ¾ cup all-purpose flour
- 3 eggs + 1 tablespoon of water (egg wash)
- ½ cup corn meal
- 1 cup panko crumb
- 1 tablespoon chopped parsley
- 1 tablespoon chopped chives
- 1/8 teaspoon smoked paprika
- 3 cups neutral oil for frying
- sliced goat cheese
Pecan basil relish
- ½ cup pecans, toasted at 350 degrees for about 10 minutes, then chopped
- 1/8 teaspoon garlic, grated
- 1 jalapeño, stem and seeds removed; minced
- 1-2 tablespoons, lemon juice
- 2 tablespoons mayonnaise
- 3 tablespoons sour cream
- 1/8 cup olive oil
- 1 cup chopped basil
DIRECTIONS
1. Place the all-purpose flour in a medium mixing bowl. Place the egg wash in a separate medium mixing bowl, and combine the panko, corn meal and herbs in a third medium mixing bowl. Set up a workstation, working left to right, in this order:
a. Flour
b. Egg wash
c. Panko/cornmeal
2. Working one or two green tomato slices at a time, lightly coat each slice in the flour on both sides. Then, dip in the egg wash, coating both sides, and transfer to the panko/cornmeal mixture, ensuring both sides are coated.
3. Repeat with remaining slices. Once all slices are breaded, place in the freezer for about 30 minutes. This will help the breading adhere when they are fried.
4. For the pecan basil relish, place all ingredients in a mixing bowl and thoroughly combine. Season with salt and pepper to taste.
5. To fry the green tomatoes, heat 3 cups of oil in a heavy-bottomed pot until it reaches 300 degrees.
6. Working in batches of two to three, fry each tomato slice for about 2 minutes per side. Flip to fry the other side. Repeat with remaining slices.
7. To assemble, alternate the fried green tomatoes with the sliced goat cheese, with about 3 slices of each for each serving. Garnish with fresh basil leaves and drizzle the pecan basil relish on top.
SWEET CHERRY CRISP
Servings: 6
INGREDIENTS
Brown Sugar Crumble
- 1 cup all-purpose flour
- ¼ cup old-fashioned oats
- 1 cup brown sugar
- ½ cup melted butter
- ¾ cup pecan pieces
- 1 teaspoon cinnamon
Cherry Filling
- 1 cup granulated sugar
- 1 teaspoon lemon zest
- 2 tablespoons corn starch
- 1 teaspoon vanilla extract
- 5 cups sweet cherries, pitted
Tools
- 9x9 baking dish
- Paring knife, cutting board
- 2 12-inch mixing bowls
- wooden spoon
- small sauce pot
DIRECTIONS
Brown Sugar Crumble
1. Preheat oven to 350 degrees.
2. Combine in a 12-inch mixing bowl the flour, oats, brown sugar, melted butter, pecan pieces and cinnamon.
3. Mix together crumbly
4. Press half of the mixture into the bottom of the 9x9 baking dish. Set aside along with the remaining crumble and move on to the berry mixture.
Cherry Filling
1. Place the sauce pot over medium high and add in the water and corn starch. Vigorously whisk the liquid to dissolve the corn starch. Add the sugar, lemon zest and vanilla extract.
2. Bring to a boil and boil for 5 minutes.
3. Meanwhile, gently combine the cherries in the second 12-inch mixing bowl and set aside.
Finish the crisp
1. Place the cherries on top of the first layer of crumble in the bottom of the baking dish and spread the fruit evenly across the pan.
2. Pour the liquid mixture evenly over the fruit. Imagine the fruit is sectioned into 1-inch squares and pour the liquid in a back-and-forth movement from one side of the pan to the other, as well as side
to side.
3. Sprinkle the remaining crumble mixture over the fruit, ensuring that the crumble is spread evenly across the fruit.
4. Place the fruit crisp on the middle rack of the oven and bake for about 45 minutes to 1 hour, or until the crisp is bubbling around the edges and the crumble on top is golden brown.
5. When the crisp is done, remove from the oven and place on a cooling rack or two potholders. Let cool for about 10 minutes before serving.
6. Serve with whipped cream, vanilla ice cream or your favorite ice cream.
Topics: Hospitality, School of Hospitality
Edit this page