Early Bird
Advancement team celebrates fundraising successes
After exceeding its 2019-20 goal, the team has refocused its efforts to help students and programs persist through the COVID-19 pandemic.
July 29, 2020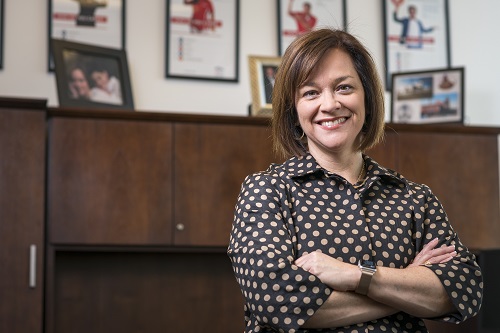 Like every Metropolitan State University of Denver department and office, the University Advancement team had to shift its goals rapidly with the arrival of the COVID-19 pandemic. The office quickly recalibrated and refocused its fundraising efforts to help students persist through the global health crisis and doubled down on telling the MSU Denver story.
Despite economic uncertainty, the team exceeded its 2019-20 fundraising goal of $6.5 million, raising more than $6.8 million for MSU Denver students and programs. That included a very successful MSU Denver Gives Day, when donors contributed more than $150,000, over half of that going to the Student Emergency Fund. The team also continues to grow the Dreamer Emergency Fund, which today stands at $115,000 of its $300,000 goal.
Christine Márquez-Hudson (pictured), vice president, University Advancement, said nearly half of dollars raised go toward student scholarships. She added that the University Advancement team is working to grow the amount of funding that goes directly toward programs and other strategic priorities. A good example of these efforts is development of the Healthcare Opportunity Program, which supports a cohort of students throughout their education journey as well as a paid health care-navigator position.
The team is not only working harder this year; it's working smarter by refining systems and operations for maximum impact and efficiency. A thorough donor-database audit is helping the team strategically determine where to apply time and attention, which Márquez-Hudson believes will be transformational.
In addition, the team continues to support the University's strategic goals and establish more connections across campus, building a culture of giving and helping campus partners understand the University's broader community impact.
One thing that hasn't changed through the pandemic, however, is the team's shoulder-to-shoulder philosophy in working with donors. The approach aligns and integrates a donor's goals with those of MSU Denver, allowing the University to facilitate and advance a shared goal through program development, new partnerships, student opportunities such as paid internships and more.
"What has been successful is the idea of partnering to achieve an impact as opposed to asking for help to address an internal need," said Márquez-Hudson. "My philosophy is that MSU Denver is one of the most important institutions in the Denver metro area in terms of achieving the metro area's workforce and economic-development goals. And as the primary public institution of higher education that is educating Colorado students, there isn't another institution in the state that is more important than ours."
As such, the Advancement team's goal is to get the word out about MSU Denver's incredible student population and to cultivate gifts that support overall student success.
"As we talk to donors about investing in scholarships, we're talking with them as well about the opportunity to invest in wrap-around support services that can help students persist and succeed," Márquez-Hudson said. "We've worked recently to shift the investments of our donors toward student-success investments like peer mentors, academic advisors, the Student Emergency Fund and other support services."
Throughout the current fiscal year, Advancement efforts will focus on communicating MSU Denver as part of the solution to a variety of social and economic challenges, including recovery from the economic impacts of the pandemic. Additionally, the team has committed to remaining agile to capitalize on new funding opportunities; building the Foundation Board leadership team and expanding membership and participation; deepening existing relationships with donors and engaging them in high-impact giving opportunities; and preparing for an eventual giving campaign – and there are always opportunities for employees to support these efforts.
"Our faculty and staff are the best and most passionate ambassadors we have," Márquez-Hudson said. "If they know of people who would be good to introduce to the University, or who they believe have important giving potential, they can invite them to invest in any of our strategic priorities or help us connect them to the University."
Topics: Advancement, Alumni, Colorado, Community, Denver, Excellence, Funding, Student Success
Edit this page