Early Bird
President Davidson joins important higher ed and public service conversations
Davidson serves as thought-leader in several upcoming state and national events.
July 27, 2020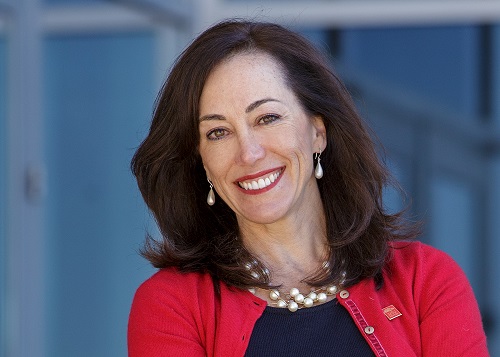 Metropolitan State University of Denver is continuing to establish itself as an innovator and a higher education leader. President Janine Davidson, Ph.D., is leading the charge as a national thought-leader, ensuring the University is included in and driving important and timely conversations on the future of higher education.
"It's no secret that many colleges and universities across the country have struggled to adapt to the impacts of COVID-19," Davidson said. "On top of that, institutions are having significant and largely overdue discussions about racism and equity. MSU Denver can share valuable perspectives in these conversations. We're not only a lean University that has successfully pivoted to remote and hybrid learning, we're facing timely social issues head on."
To that end, Davidson will participate in a series of upcoming virtual speaking events aimed at demonstrating MSU Denver's leadership in higher education and showcasing the University's commitment and action with regard to fostering a diverse and equitable culture while continuing to offer a high-quality and accessible higher education experience. Students, employees, alumni and community partners are welcome to attend. All events are free.
Today
1–2:30 p.m.
Davidson will join other of Colorado higher education leaders to discuss the challenges and exciting opportunities related to impacts of COVID-19 as well as changes in societal/cultural awareness, workforce needs, student and parental expectations, political pressures, financial headwinds and redefined business models. Learn how these leaders are successfully navigating forward through their vision of the future of U.S. higher education.
Other panelists include CSU System Chancellor Tony Frank and CU President Mark Kennedy. Diana Doyle, president, Arapahoe Community College, will serve as moderator.
The event will be available on MSU Denver's Livestream page.
Wednesday
4:30-5:30 p.m.
Metropolitan State University of Denver community members are invited to attend Renewing America's Public Service Commitment in the 21st Century, a virtual dialogue featuring President Janine Davidson, Ph.D.; former U.S. Sen. Gary Hart; U.S. Sen. Michael Bennet; Rebecca Love Kourlis, J.D., former justice of the Colorado Supreme Court; and moderator Federico Peña, J.D., former mayor of Denver.
The panelists will discuss renewing citizen engagement and the need for a greater public-service commitment in the era of public-health and sociocultural transformation.
The event is co-sponsored by The Hart Center for Public Service and MSU Denver.
Viewers are invited to submit questions in advance and stay tuned for more event details.
Aug. 5
10:30 a.m.
The virtual conversation will feature President Janine Davidson, Ph.D.; Mark Kennedy, president, University of Colorado; and Becky Takeda-Tinker, Ph.D., president, Colorado State University Global. The panelists will discuss the challenges and opportunities facing higher education, including budget shortfalls, technology infrastructure, creating value for stakeholders and establishing partnerships with the private sector.
The event is co-sponsored by the Colorado Business Roundtable, the Common Sense Institute and the Bell Policy Center. Register today
Panel Presentation: The Future of Higher Ed.
Aug. 19
11:30 a.m. – 12:30 p.m.
Hear from some of Colorado's higher education leaders regarding COVID-19 impact on funding, impact of higher ed funding on workforce development, best practices, innovations, diversity, equity and the greater impact on the economy.
Davidson will speak with fellow panelists Tony Frank, chancellor, Colorado State University System and Mark Kennedy, President of the University of Colorado System. The event will be moderated by Kelly Brough, president, Denver Metro Denver Chamber.
The event is sponsored by the Denver Metro Chamber of Commerce. Stay tuned for more registration information.
Topics: Events, Excellence, Inclusive leadership, Policy, President Davidson
Edit this page