Early Bird
More great recipes from the School of Hospitality
The National Culinary Arts Month celebration continues with more refreshing summer drinks and dishes.
July 14, 2020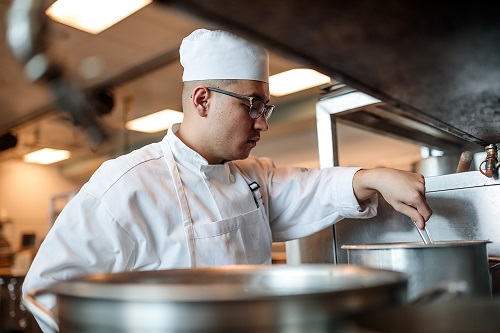 To celebrate National Culinary Arts Month, Professor Michael Wray, Ph.D., chef and sommelier, has developed delicious drinks to keep you cool, and James A. Webb, career advisor for the School of Hospitality, offers a tasty mac n' cheese recipe.
If you try any of these custom drinks or dishes, be sure to comment below or share your feedback on the Metropolitan State University of Denver School of Hospitality Facebook page.
Please remember that alcoholic-beverage recipes are intended only for those 21 years old and over. Please drink responsibly.
Grand Marnier Margarita
2 ounces añejo or extra añejo tequila
1 ounce Grand Marnier
2 ounces fresh lime juice
Lime wedge
In a bar mixing cup, add one scoop of ice and top with tequila, Grand Marnier and lime juice. Stir with a cocktail spoon. Pour into a rocks glass and garnish with a fresh lime wedge.
Frozen Strawberry Margarita
1 cup ice
¾ cup frozen strawberries in syrup
2 ounces tequila
1 ounce triple sec
1 ounce fresh-squeezed lime juice
Strawberry for garnish
Whipping cream, canned
In a blender, add ice, frozen strawberries (get the kind with syrup in a grocery store near the frozen juice concentrate), tequila, triple sec and lime juice. Start blender on slow, then increase speed and blend until smooth. Add more or less ice as needed to form a smooth margarita. If too thick, add a dash of tequila or water and more blending to lighten the mixture. Pour into a tequila glass and garnish with whipped cream and fresh strawberry.
Quick, Easy and Foolproof Mac 'n Cheese
Anyone can master this simple mac 'n cheese recipe. This dish calls for sodium citrate, which can be ordered online or found at a spice shop. Also called 'sour salt', sodium citrate is a melting cheese salt that keeps cheese emulsified while melting.
For a live demonstration of this recipe, visit the next edition of the School of Hospitality's Facebook series, Rogue Kitchen.
Cheese sauce ingredients
4 ¼ cups scalded whole milk
2 ¾ tablespoons sodium citrate
2 pounds, sharp cheddar cheese
Preparation
Scald milk, which means to heat just until steam rises from it.
Whisk in the sodium citrate until it is dissolved.
Gradually whisk in cheese until it is all melted.
Season as needed.
Add 4 ¼ cups of cooked elbow pasta to the sauce.
Topics: Hospitality, School of Hospitality
Edit this page