Early Bird
Reimagining higher education in a post-pandemic Colorado
President Davidson joins other university leaders for a virtual Colorado Business Roundtable discussion Aug. 5. Register today.
July 14, 2020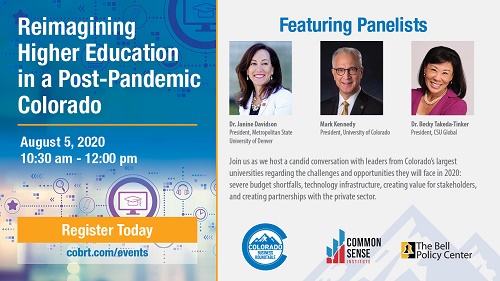 The Metropolitan State University of Denver community is invited to attend Reimagining Higher Education in a Post-pandemic Colorado on Aug. 5.
The virtual conversation will feature President Janine Davidson, Ph.D.; Mark Kennedy, president, University of Colorado; and Becky Takeda-Tinker, Ph.D., president, Colorado State University Global. The panelists will discuss the challenges and opportunities facing higher education, including budget shortfalls, technology infrastructure, creating value for stakeholders and establishing partnerships with the private sector.
The event is co-sponsored by the Colorado Business Roundtable, the Common Sense Institute and the Bell Policy Center.
Aug. 5
10:30 a.m.
Topics: Community, Events, Excellence, Experts in the Media, Inclusive leadership, President Davidson, Save the date
Edit this page