Early Bird
Board of Trustees declines to raise tuition and fees for students
Policy approvals and end of DIME partnership highlight last week's gatherings.
June 8, 2020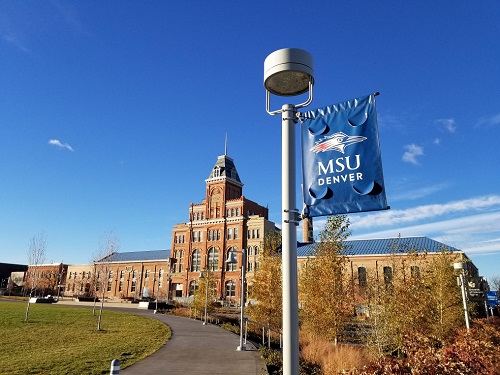 Metropolitan State University of Denver's Board of Trustees met June 4-5. Here are the highlights from two half-days of presentations, discussion and big decisions.
Tuition to remain flat
After a robust discussion, trustees decided not to increase the cost of tuition for resident and nonresident undergraduate students for the fall 2020 semester citing the challenges students faced over the past two-plus months. Relatedly, the board waived several campus-based fees for the fall semester. Learn more in President Janine Davidson's Friday letter to the campus community.
In other financial updates, the University still projects a $14 million budget shortfall for fiscal year 2020-21 and has proactively cut nearly $9 million to offset that gap. Summer enrollment is up 7.63% for full-time equivalents, while actual headcount is up 6.1%. Fall enrollment is down 11.36% in FTE and down 8.4% in head count but continues to climb.
University severs ties with Detroit Institute of Music Education
When MSU Denver partnered with DIME in 2015, hopes were high for the prospect of providing education for nontraditional students who aspired to work in the music industry. After five years, however, the partnership was no longer financially sustainable.
An independent marketing study done in 2019 found that enrollment at DIME locations in Denver and Detroit was only 168 students – fewer than half of the 349 students required for the partnership to break even. Consolidated financial data showed that in June 2019 total tuition received was under $2 million, while expenses were almost $4M. Per projections from MSU Denver and DIME, these numbers were not expected to improve significantly in the coming years.

Based on these insurmountable financial hurdles, MSU Denver regretfully informed DIME leadership of its decision to terminate the agreement in 365 days. In subsequent discussions, the DIME team made the decision to terminate effective June 1.
"We did not make this decision lightly," Davidson said. "Despite our attempts and our investment in leadership and in funding, it became obvious that the program would not realize our hopes and dreams."
MSU Denver recognizes its obligation to students at the Denver and Detroit locations, and is reaching out to all students to discuss their academic futures – whether they remain with MSU Denver or explore other options.
Racial-injustice dialogue
Davidson and board members reiterated their commitment to anti-racism work on the institutional level as well as their support for African American students, faculty and staff.
With the help of Michael Benitez, Ph.D., vice president for Diversity and Inclusion, and other University leaders, the institution will create more meaningful and educational spaces to acknowledge and process Roadrunners' emotions and focus on what to do next. Read the Early Bird for more details on an upcoming dialogue panel to generate actionable anti-racism ideas.
"This University has a legacy of standing up for what is right," said Chair Barb Grogan. "The question is how we work with our amazing leaders, faculty, staff and students to make sure that this really is 'never again.' The board is committed to working with everyone on the MSU Denver campus to make certain our voice is clear and that our actions will walk the walk, talk the talk and make it happen."
Policy approvals
Members voted unanimously to approve the Contractual Indemnification Policy, the Revised Intellectual Property Policy, the Revised Academic Policy Enactment Policy and the Reduction in Force Policy.
Approved curriculum changes include a new general concentration in the Master of Business Administration, College of Business; conversion of the Human Performance and Sport Minor Dance Concentration to a Dance Concentration (ownership also changes from HPS to Theatre); and the discontinuation of the Recreation Professions Major, B.A. Program, within the Department of Health Professions.
Hails and farewells
Board members also approved a proposal by Bill Henry, Ph.D., interim provost, to grant administrator emeritus status to outgoing Provost Vicki Golich, Ph.D. Henry noted Golich's significant contributions to the University, among them her efforts to diversify faculty, overhaul faculty promotion and sabbatical processes, secure program accreditation and develop international relationships. Golich also announced that she has requested the endowed fund established in her name last month be dedicated to supporting MSU Denver's EPIC Scholars program.
Members also thanked Dean Jenn Capps, Ph.D., for her years of service to the University, as an educator and a leader. Trustee Marissa Molina expressed gratitude for Capps' leadership in developing the DUHOP program and for expanding access and opportunities for vulnerable students. "We will work hard to keep your legacy alive," Molina added.
Becky Trammell, Ph.D., will replace Capps on an interim basis beginning June 30. Trammell will work with Henry and the deans to continue progress on the academic reorganization.
Members also welcomed Todd Thurman, director, Athletics, to the University community, and commended John Kietzmann for his enthusiastic and effective interim leadership and Shawn Worthy, Ph.D., for chairing the search committee.
Outgoing Faculty Trustee Chris Harder, Ph.D., and Student Trustee Adetilewa Awosanya were thanked for their service to the board, and members welcomed newly elected Faculty Trustee Bethany Fleck Dillen, Ph.D., and Student Trustee Alaura Ward to the body.
Futures Team update
In early April, Davidson asked the Strategic Planning Team to pause its efforts of writing the 2025 Strategic Plan, asking the team instead to think through alternative post-pandemic scenarios for consideration by senior leaders and trustees. The SPT team has spent the last month researching the psychology of students, parents, faculty, staff, government and business partners in preparation for a Scenario Planning exercise in mid-July. A smaller Futures team has also emerged to look at post-pandemic scenarios that will help guide this July exercise. Dean of Hospitality Christian Hardigree, J.D., will co-chair the Futures work. Matt Makley, Ph.D., will serve as participant on this task force and return as co-chair in the fall when the Strategic Planning Team resumes.
Return to campus plans
The Roadrunner Safe Return committee has been working in coordination with Auraria Campus partners to ensure the safety of all campus community members. Davidson committed to sharing as much information as possible with the campus community as it becomes available.
Topics: Academics, Board of Trustees, Inclusive leadership
Edit this page