Early Bird
Health and safety reminders for Roadrunners approved to return to campus
As the University resumes limited on-campus operations next week, Roadrunners who have campus access must adhere to specific COVID-19-related procedures and expectations.
July 1, 2020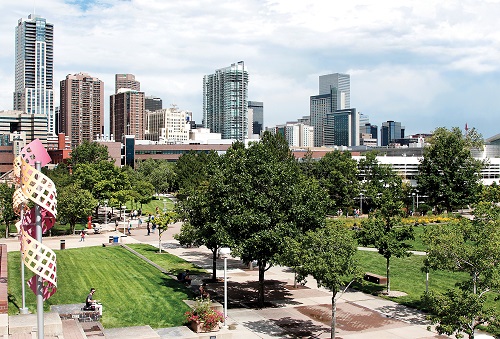 Metropolitan State University of Denver looks forward to welcoming back Roadrunners who are taking, teaching or supporting Tier 1 on-campus late-summer courses.
As the University resumes limited on-campus operations next week, Roadrunners who are approved to return to campus must adhere to specific COVID-19-related procedures and expectations, which were communicated by Larry Sampler, chief operating officer, on Wednesday.
Social distancing of 6 feet or greater must be maintained between individuals on campus at all times. Classroom spaces have been set up to accommodate such distancing, but we ask that individuals notice others in their vicinity and make concerted efforts to maintain this distance.
Face coverings (masks and/or shields that cover the mouth and nose) are required and must be worn by everyone on campus in the presence of others. While you will be responsible for providing your own face covering, if you are on campus and have forgotten a face covering, please visit the Health Center at Auraria (Plaza Building) for a replacement mask. Free personal-protective-equipment kits will be available to students, faculty members and staff members who are taking, teaching or supporting on-campus Tier 1 late-summer courses. The kits include hand sanitizer and disposable masks. Availability is limited and based on need. Eligible students, faculty and staff can pick up a kit at the Jordan Student Success Building Student Lounge from Monday through July 10 from 8 a.m. to 5 p.m. while supplies last. Roadrunners will need to provide their University #900 for pickup.
Wash your hands regularly throughout the day and/or use hand sanitizer that will be in multiple locations within each campus building.
A daily Home Health Self-Assessment is required each day prior to coming to campus. Roadrunners who respond with any "yes" answers on any given day should NOT come to campus. Instead, please call the Health Center at Auraria to assess your symptoms/situation and determine if COVID-19 testing is recommended. Please call 303-615-9999 Monday-Thursday 8 a.m. to 5 p.m. and Friday 8 a.m. to 3 p.m. Campus access will be determined by the medical provider, contingent on medical evaluation.
Stay home if you are ill.
Additionally, campus photo IDs will be required to be displayed when entering all Auraria Campus buildings. If you do not have a campus photo ID, starting Monday the campus bookstore will be open Monday-Friday from 8 a.m. to 4:30 p.m. to issue IDs, or call 303-556-8352 to set up an appointment.
Find more information about COVID-19 on the CDPHE and CDC websites.
The University also offers a variety of resources related to COVID-19 impacts, including:
The Health Center at Auraria is open on campus and offers no-cost COVID-19 testing as well as a variety of other health care needs.
The Counseling Center offers students no-cost and confidential therapy in a virtual setting, in additional to an array of clinical services.
The Student Care Center offers a variety of services to support students with difficult life circumstances. Call 303-615-0006 or email studentcarecenter@msudenver.edu to connect.
Topics: Health, Safety
Edit this page