Early Bird
Athletics begins gradual return to campus this week
Student-athletes and coaches will participate in one-on-one workouts while maintaining social distancing.
June 18, 2020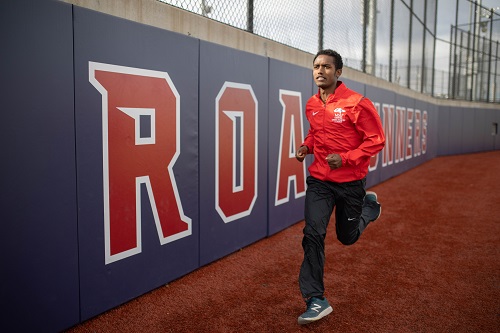 Metropolitan State University of Denver is committed to providing updates on the University community's Safe Return to Campus. Stay tuned to the Early Bird and the forthcoming Safe Return to Campus website for the latest information as we work to ensure the health and safety of every Roadrunner while also fulfilling our essential educational mission.
After months of planning and establishing protocols and safety provisions, MSU Denver student-athletes began returning to campus for physicals Monday with health care personnel from the Auraria Health Center. One-on-one workouts with coaches began Tuesday.
"We're excited to have our student-athletes back on campus for workouts and to allow them to return to participating in the sports they love and have spent so much time training for over the years," said John Kietzmann, MSU Denver's interim director of Athletics. "We've made sure that we have provided the safest possible environment for them to begin preparing for their upcoming seasons."
Since the closing of the Auraria Campus in response to COVID-19, MSU Denver student-athletes have been unable to participate in their sports under the guidance of their coaches. Allowing student-athletes to resume one-on-one workouts with their respective coaches will allow them not only to improve their skill set leading up to the 2020-21 competitive seasons but will help improve the mental health of student-athletes and coaches alike.
While following guidelines provided by federal, state, city and University regulations, as well as input from the Auraria Health Center, student-athletes and coaches can participate in sport-specific activities while maintaining social distancing and using other precautions. These precautions begin with ensuring that participants are symptom-free and recognizing the importance of daily self-evaluations.
MSU Denver Athletics continues to comply with directives from the NCAA Sport Science Institute and Brian Hainline, M.D., chief medical officer of the NCAA, in gradually setting the stage for the return of intercollegiate sports.
For more on guidelines and facility-use regulation, visit the Athletics Department website.
Topics: Athletics, Health, Safety
Edit this page