Early Bird
Second athletic-director candidate to visit virtually Friday
Todd Thurman will participate in online forums with University stakeholders.
May 7, 2020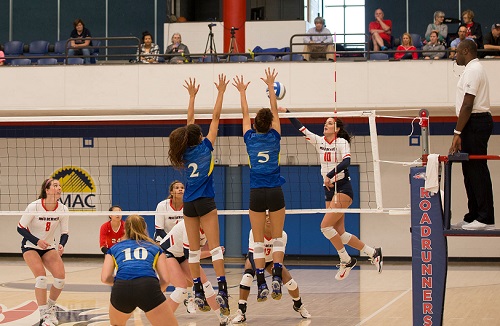 The nationwide search for Metropolitan State University of Denver's new athletic director returned two outstanding final candidates. Each candidate offers a wealth of academic and athletic leadership experience and a lifelong dedication to learning.
Each candidate will participate in virtual open forums with University stakeholders this week. Faculty, staff and students are welcome and encouraged to attend the following sessions to hear each candidate's vision for the role and ask questions.
Candidate visit No. 2: Todd Thurman
Thurman has served as director of athletics for Southwestern Oklahoma State University since 2008 and served the university as head men's basketball coach from 2006-09. His coaching career began at Southern Nazarene University in 1987, and he has since held assistant-coach and/or head-coach positions at the University of Central Oklahoma, Oklahoma Christian University and Wayland Baptist University. He holds a bachelor's degree in business education from Southern Nazarene University and earned a master's degree in education, graduating summa cum laude, from the University of Central Oklahoma. Thurman was named Lone Star Conference Coach of the Year in 2008 and Administrator of the Year in 2015 and formerly played professional basketball in Argentina and the United Kingdom.
Friday
Open forum with faculty and staff
9:30-10:30 a.m.
Moderated by Shawn Worthy, Ph.D., professor, Human Services, chair, search committee.
+1 720-577-5242 United States, Denver (toll)
Conference ID: 997 891 253#
Open forum with Athletics staff
11 a.m.-noon
Moderated by Tanya Haave, head coach, Women's Basketball
Open forum with University dignitaries
1-2 p.m.
Roy Alexander, President's Community Cabinet representative
Rob Cohen, former MSU Denver Board of Trustees chair, chair and CEO of the IMA Financial Group Inc.
Bill Hanzlik, former MSU Board of Trustees member and NBA basketball player
Jack Pogge, former chair, MSU Denver Board of Trustees
Open forum with student-athletes
2:30-3:30 p.m.
Moderated by Cain Van Heyningen, student-athlete.
Topics: Athletics, Hiring, Inclusion, Inclusive leadership
Edit this page