Early Bird
Congratulations to the 2020 Distinguished Service Award winners
President Davidson recognizes five exemplary employees during the virtual Roadrunner Appreciation Day.
May 6, 2020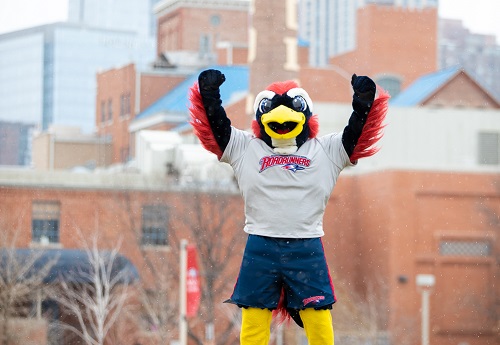 President Janine Davidson, Ph.D., began the virtual Roadrunner Appreciation Day with a word of gratitude to University employees.
"Challenging times show us who we are, and this semester I've learned just how deeply our faculty and staff are committed to our students," she said.
In that spirit, Davidson and Provost Vicki Golich, Ph.D., presented the 2020 Distinguished Service Awards to longtime employees who embody the University's mission and values.
"Nominated by their peers, these exemplary Roadrunners are committed to the success of our students and to building MSU Denver into a world-class university," Davidson said. "They are dedicated to our shared CADRE values of community, access, diversity, respect and entrepreneurship – and the extra "e" I like to add for excellence!"
Distinguished Service Award – Administrator
Chris Mancuso, web manager, Strategy, Marketing and Communications
Mancuso has worked at MSU Denver for more than 20 years, and he's also a proud University alum. In her nomination letter, Cathy Lucas, vice president of Strategy and External Affairs, praised Mancuso for being "a shining example of a true Roadrunner, demonstrating dedication to our mission through his hard work and due diligence."
He has led or contributed to five MSU Denver website redesigns and has driven web strategy through key initiatives such as the University's name change, adding master's programs and the institution's 50th anniversary. He's been instrumental in managing crisis communications throughout the COVID-19 pandemic, providing exceptional web and digital support to ensure that the University is able to share critical and fast-moving information.
Nominators also praised Mancuso for his patience and skill as a trainer and for his ability to build relationships and find solutions.
Distinguished Service Award – Classified Staff
Jacqueline Kirby, program manager, Communication Studies.
Nominator Angela Martinez, work-study participant and Communications Studies major, wrote, "Jacque makes a lasting impact on everyone she meets. There have been countless students who are long gone and have graduated, but they still come back to campus just to visit her."
Kirby, an alumna of the University and the department she serves, is known for supporting students and establishing a year-round food-donation box for those struggling with food insecurity. She is also dedicated to building meaningful personal relationships with all faculty and making them feel valued, supported and respected.
Dan Lair, chair and associate professor of Communication Studies, wrote, "It was Angela (a student) who took it upon herself to coordinate Jacque's nomination. This speaks to the most important reason she deserves a Distinguished Service Award: her unparalleled service to students."
Distinguished Service Award for Faculty
Bruce Rengers, Ph.D., professor, Nutrition
Rengers has been with MSU Denver for 13 years and for 10 years has served on the College of Professional Studies Recruitment and Retention Committee, which works to increase faculty diversity.
Before joining MSU Denver, Rengers worked for the Special Supplemental Nutrition Program for Women, Infants and Children. As a Roadrunner, he co-developed one of the nation's only dietetic internships that focus on urban nutrition, preparing students to serve diverse clients and reduce health disparities. He also established a study-abroad program in Mexico.
Kathy Heyl, chair, Nutrition, wrote that Rengers "stands out as one of the most dedicated faculty members at this University, given the depth and breadth of his contributions." She also noted that while he teaches the most rigorous courses in the nutrition curriculum, he receives some of the highest Student Ratings of Instruction.
Extraordinary Service Award
Alex McDaniel, associate director for instructional design, Center for Teaching, Learning and Design
Over 15 years with MSU Denver, McDaniel has played a pivotal role in restructuring and revitalizing the CTLD and led the development of a course-design process model, revolutionizing online course services. He's championed efforts to incorporate open education resources in online course-design work, saving students hundreds of thousands of dollars. He also did a great deal to prepare instructors to move their courses fully online due to the COVID-19 pandemic.
A tireless champion of accessibility, McDaniel also went above and beyond to co-found the Technology Accessibility Initiative in support of student success.
Todd Wolfe, instructional-media manager, wrote, "When I sent out emails to people who I know would gladly endorse Alex for this award, I thought I'd hear back from two or three. I received letters from 15 people, from instructors and colleagues to deans, chairs and general counsel."
President's Award
Vicki Golich, Ph.D., provost
Finally, President Davidson honored retiring Provost Vicki Golich, Ph.D., with the President's Award and a painting of St. Cajetan's by faculty member and alumnus Carlos Frésquez.
Davidson noted Golich's work on faculty tenure and promotion, the sabbatical program, efforts to recruit and retain faculty of color and her support of hands-on learning opportunities among Golich's many accomplishments.
"You're also an extraordinary judge of talent," Davidson said. "You put together great teams, and you trust them to get the job done. You are supportive but not authoritative unless needed. You embody inclusive leadership to your core. It's just who you are. And it shows in how much your teams have accomplished."
The University has also established the Vicki Golich Endowed Fund to ensure that Golich's legacy will live on in perpetuity.
Topics: Access, Award, CADRE, Community, Entrepreneurship, Excellence, Respect
Edit this page