Early Bird
MSU Denver continues to stand up for students
University leaders advocate for DACA, increased funding and lawmakers' support of policies that will improve higher education and student success.
May 6, 2020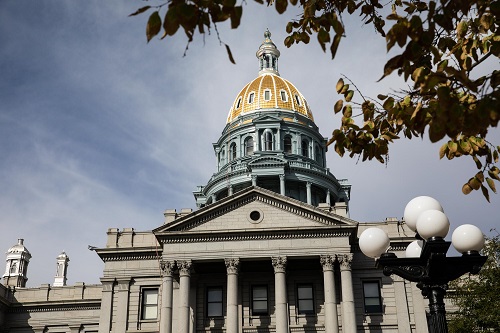 Metropolitan State University of Denver's advocacy and legislative efforts haven't slowed down since the onset of COVID-19. Instead, the University is doubling down on its commitment to supporting students and working with lawmakers to improve higher-education funding and policy.
On April 22, Ally Garcia, Ed.D., assistant dean and director of TRIO Student Support Services, and Manny Del Real, Ph.D., executive director, Hispanic-Serving Institution Initiatives, brought a bold agenda to their meetings with aides for U.S. Rep. Diana DeGette and U.S. Sen. Michael Bennet. Among the requests, Garcia and Del Real asked for:
The lawmakers' support of the Hispanic Educational Resources and Empowerment Act of 2019, which would help strengthen Upward Bound, EXCEL and family literacy programs.
An increase in fiscal 2021 appropriations, specifically an additional $1 billion for the CARES Act stimulus package, and increased funding opportunities to help students.
The lawmakers' support of the DREAM Act and the extension or automatic renewal of DACA.
"Our recommendations are essential to assuring the future success for all our students," Del Real said. "We plan to continue our outreach and follow up with members of Congress to invite them to campus this summer."
Garcia and Del Real also shared some key statistics about MSU Denver students:
More than 95% of Roadrunners are from Colorado.
46% of undergraduates are students of color.
56% of MSU Denver undergraduates are the first in their family to go to college.
The average undergrad is 25 years old.
54% of undergraduates are transfers.
Nearly 80% of students work full- or part-time.
46% of enrolled students receive scholarships or grants.
MSU Denver serves 8,529 Pell-eligible students, more than any other public institution in the state.
In speaking with DeGette's staffers, Del Real and Garcia, along with Community College of Denver President Everette Freeman, Ph.D., urged DeGette to join the representatives' HSI caucus to contribute to decision-making and knowledge-sharing. Colorado now has 13 designated HSIs, and nearly 30% of MSU Denver students identify as Hispanic.
"Sen. Bennet's staff really cultivated a conversation around higher education," Garcia said. "We were able to have a short, high-level talk about the reauthorization of the Higher Education Act, how the inequities that are now highlighted by COVID-19 have always been there and that we need to continue to highlight and remember these students when drafting a reauthorization bill."
Garcia also specifically advocated for increased Pell Grant support, improved loan-forgiveness options and for Bennet's staff to reexamine the current financial-aid funding model through the lens of the Multiple Streams Framework proffered by political scientist John Kingdon.
"Basically, there are three streams: the problems stream, the policy stream and the politics stream," Garcia explained. "When a problem is recognized, a policy is developed and the political climate is ripe for change. That creates a window of opportunity.
"I think inequities are so blatant due to the COVID-19 (pandemic) that now, more than ever, is the time to be vocal about the needs of our most underrepresented students. Our window of opportunity is open."
In addition to speaking with lawmakers, the University continues to play a vital role in the creation of policy initiatives at every level. This creates many opportunities for Roadrunners to get involved and advocate for students and policies that will support and improve higher education. Those interested in learning more are encouraged to become MSU Denver Champions.
"As a democracy, our ideas and voices matter," Garcia said. "I encourage all (University) stakeholders to use their voice for change. … If not us, then who? If not now, then when?"
Topics: Colorado, Denver, Excellence, Funding, Hispanic Serving Institution, Legislation, Policy, Student Success
Edit this page