Early Bird
Kudos
This month, the Early Bird shines a spotlight on award-winning, community-changing students and alumni.
May 6, 2020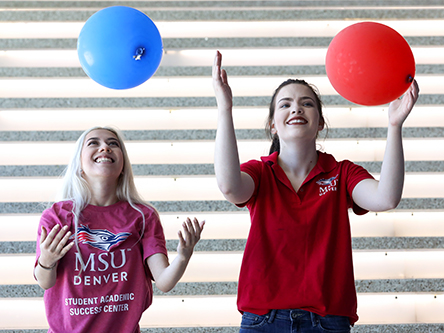 In addition to Faculty Citings, the Early Bird shines a spotlight each month on the accomplishments of Metropolitan State University of Denver students, alumni, faculty and staff.
As our campus community continues to navigate teaching, learning and operating online to reduce the spread of COVID-19, it's great to be reminded of the true impact of MSU Denver students, faculty and staff.
If we missed an award, accolade or opportunity to celebrate an accomplishment big or small, please email us at earlybirdeditor@msudenver.edu.
Students who soar
Whitney Allen won the Lawrence Golding Student Scholarship Award from the American College of Sports Medicine. Only one student is selected annually for the award. The scholarship was created to recognize undergraduate students who have made significant contributions to their community in health, fitness and/or education.
Jazmin Serrano is going above the call of duty as a certified personal trainer in the Campus Recreation program. Serrano sends encouraging personalized texts and emails custom workouts to her University clients, inspiring them to stay healthy and keep moving forward.
The Visit Denver Foundation has awarded $13,500 in scholarships to MSU Denver Hospitality event- and meeting-management students, including:
Tatym Lillquist
Brian Vits
Marissa Gracie
Aubrey Martin
Markeyia Gaston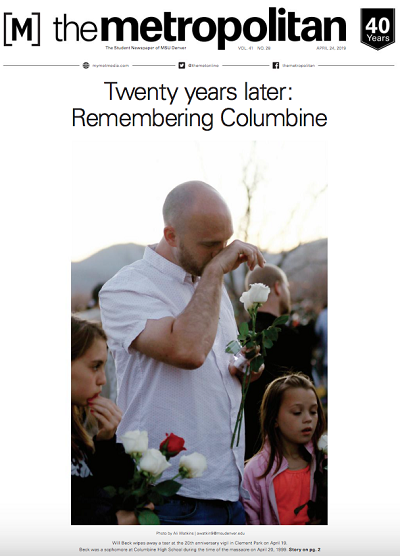 The Journalism and Media Production Department and My Met Media are proud to announce that eight students have won "Mark of Excellence" awards from the Society of Professional Journalists' Region 9. Congratulations go to:
Matt Perry, Best Podcast category for his "Boxed Out Podcast."
James Burky, Best Sports Writing for his profile of MSU Denver men's basketball coach Michael Bahl.
Ali C.M. Watkins, Best Breaking News Photography award for her photo of Will Beck, a survivor of the Columbine massacre (right).
Megan Webber, Best Radio Feature for a story on Mother House that she did as an intern with KGNU Radio.
Brady Pieper, Best Feature Story for his article on hunting for ghosts through the Tivoli's catacombs.
Zhen Tang-Sheets and Madison Lauterbach, Best Data Visualization category for an infographic on rising rents in Denver.
Tang-Sheets, Best Photo Illustration for her adaptation of an image related to the World Society Mission Church of God.
Estevan Ruiz, 2018-19 editor-in-chief of Metrosphere, which was honored as Best Student Magazine.
Watkins also won a national Society of Professional Journalists Mark of Excellence Award for her Columbine High School memorial photo, and Ruiz also won the national-level award for Best Student Magazine for "Metrosphere."
Met TV's English and Spanish newscasts, Met Report and Noticiero TVMET, were both winners of the Colorado Broadcasters Association annual awards.
Alumni who rock
Journalism graduate Leah Millis and fellow Reuters colleagues were recognized by the Pulitzer committee in the Breaking News Photography category for capturing Hong Kong protests in 2019.
Photojournalist Alyson McClaran made international news in April when her photos of a protest in downtown Denver went viral. The images were published in the New York Times, the Washington Post, BBC News, Time magazine and the Denver Post and were widely shared across social media.
MSU Denver graduate-student dietetic intern Dillon Nobbs created a video called "Eating healthy during social distancing." In the video, Nobbs shares a quick, easy, affordable and healthy quarantine-friendly recipe that does not require cooking.
"During this global pandemic, many of us find ourselves stocking our shelf and eating many non-perishable processed foods," said Nobbs. "I wanted to create a video to help people eat healthy during this time using the ingredients already in their pantry."
COVID-19 warriors
The Roadrunner community has united to battle the COVID-19 crisis. A number of faculty, staff, students and alumni have come together to create masks and personal protection equipment for health care workers. Thank you to the Departments of Mechanical Engineering Technology, Industrial Design, Advanced Manufacturing, Art, Theatre and Physics as well as the Humanitarian Engineering club and the dozens of students and alumni who have helped design and produce PPE.
Programs that perform
Congratulations to the Department of Marketing for being named a top sales university by Sales Education Foundation magazine!
Reisher Scholars recently "donated" their regularly planned social event to a wonderful cause. As the COVID-19 pandemic has interrupted in-person gatherings, the scholars voted to instead treat Health Center at Auraria staff to lunch in honor of the medical professionals' hard work throughout the crisis.
When a collaboration for a planned performance of Carmina Burana was interrupted by COVID-19, the Department of Music Chorale, under the direction of MB Krueger, and the Dance Repertory class, under the direction of Jacob Mora and Nicole Predki, got creative. The group, along with their talented students, masterfully choreographed, performed, edited and produced "Earth Song" by Frank Ticheli. Each chorale member recorded their part remotely for Krueger to sync and arrange, while the Dance Repertory students choreographed solo pieces inspired by the music. The end result is a stunning display of MSU Denver arts talent and leadership.
Kudos from students to faculty and staff
Student Todd Matuszewicz reached out to faculty members Scott Kerkmans, instructor and director of the Beer Industry Program, and Ethan Tsai, Ph.D., lecturer, Hospitality, to say thank you for their efforts to deliver high-quality remote instruction for an otherwise very hands-on brewing course.
Matuszewicz wrote, "You both have done a bang-up job pivoting on your instruction. The last two week's classes were really good. I heard from people I had not heard from all semester and learned about new fermenting possibilities. I also loved that people were posting links and commenting in the chat simultaneously. I think a lot of people are struggling with the sudden shift to online instruction ... last week's class with you all was a ray of hope for what might be possible."
Speaking with Jessica Retrum, Ph.D., associate professor and chair of the Department of Social Work, student Katie Scherr noted that two of her instructors have been "phenomnenal" throughout the transition to online learning. "Both have consistently communicated with the whole class, made use of the electronic tools that they've been provided, and have been available to students individually, all while being incredibly understanding of the outside effects on our schooling. I am proud to be a part of a program whose faculty so genuinely value students' learning experiences, as well as their overall wellbeing," Scherr wrote.
Topics: Award, Community, Excellence, Kudos
Edit this page